Our Exhibits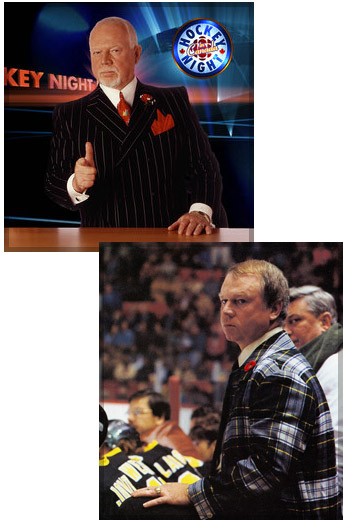 Don Cherry
Above - Kingston native
Don Cherry on the set of
'Hockey Night in Canada'
where he is a host on
'Coach's Corner'.

Right - Don in Boston
during his outstanding
tenure as head coach of
the Boston Bruins.
Don Cherry Exhibit
Kingston's International Hockey Hall of Fame & Museum is pleased to highlight the "Don Cherry Exhibit". Cherry grew up just around the corner from the original location of the Hockey Hall of Fame on Albert Street here in Kingston. The exhibit includes one of the Hockey Night in Canada icon's trademark loud sports jackets and high-collared shirts. The exhibit follows Cherry's career from his early days in Kingston as a 15-year-old playing for the Jr. B' Kingston Victorias, his Memorial Cup winning season with the Barrie Flyers, his lone NHL game as a player with the Boston Bruins in 1955.
There are also artifacts from his days as captain and Calder Cup winner with the Rochester Americans of the American Hockey League, his outstanding five-year run as coach of the Boston Bruins in the 1970's, his one-year stint coaching the Colorado Rockies and his involvement with Team Canada at the 1976 Canada Cup tournament and the 1981 World Hockey Championships. There is also the 'Key to Kingston' he received when honoured by the City in 1993.

Original Six Collection
In 2002, the Hall unveiled the "Original Six" collection, a tribute to the NHL's original six teams and the stars of hockey's golden era. Sweaters, sticks and photographs of hockey's all-time greats are featured including Richard, Beliveau, Howe and Bower.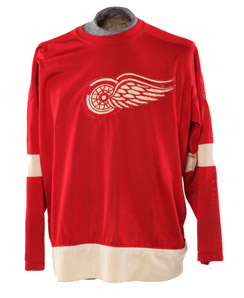 Original sweater worn by
Detroit Red Wings'
Right Winger

#9 "Mr. Hockey"
Gordie Howe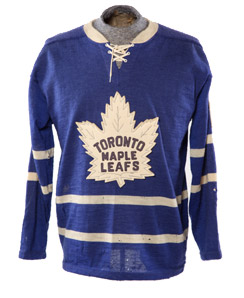 Original sweater worn by
Toronto Maple Leafs'
Goaltender

#1 "The China Wall"
Johnny Bower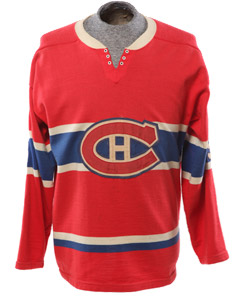 Original sweater worn by
Montréal Canadiens'
Right Winger

#9 Maurice "The
Rocket" Richard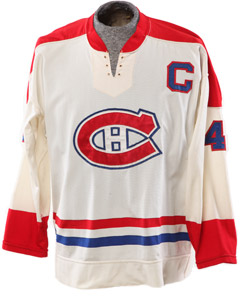 Original sweater worn by
Montréal Canadiens'
Left Winger

#4 "Le Gros Bill"
Jean Béliveau