War hero George Richardson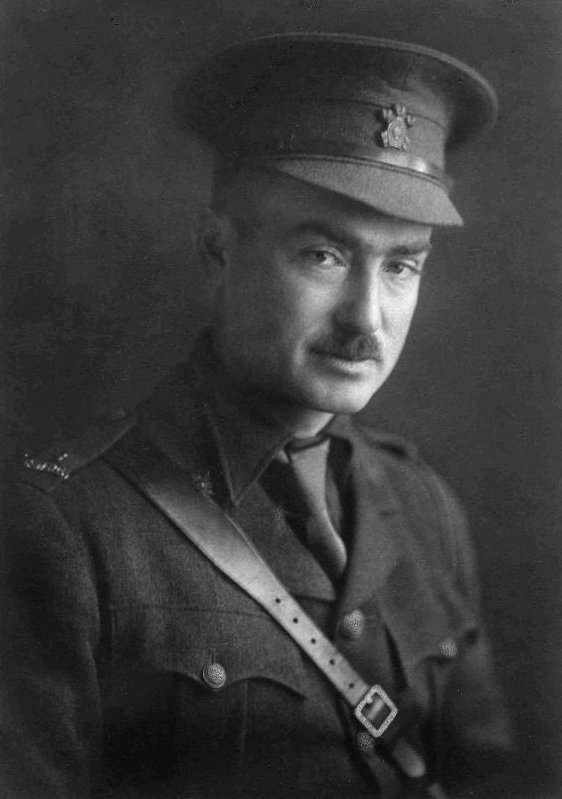 Richardson Stadium at Queen's University's west campus is named after the late George Richardson. It is home to the Queen's football Gaels - Richardson played some football, but built his reputation as a hockey player.
Born on Sept. 14, 1886, Richardson was a gifted athlete and excellent hockey player. In 1903, when he was just 16, he joined Queen's University's hockey team and played for the Intercollegiate Hockey Union championship teams of 1904 and 1906. Queen's beat McGill 13-3 in the 1906 final, with Richardson scoring five goals. That same season Queen's would challenge for the Stanley Cup and Richardson scored three goals in the two-game series they lost to the legendary Ottawa Silver Seven.
Offers came to turn pro, but he came from a wealthy family (James Richardson & Sons was one of Canada's largest grain exporters) and didn't need the money. After leaving Queen's, he starred as a left winger for the 14th Regiment Kingston senior team that went to three consecutive Ontario Hockey Association finals. In the championship final against Stratford in 1908, Richardson set an OHA senior championship record by scoring seven goals in the final game; a 9-7 victory as Kingston captured the title.
Besides being a prolific scorer, Richardson was known as a fine stick handler and gentlemanly player. Ross M. McRae, who attended games when Richardson was playing for Queen's, wrote: "George was a born athlete, a keen and fair competitor at all times and a most outstanding hockey player." During one game McRae attended, Richardson was tripped by a University of Toronto player. The referee was calling a penalty when Richardson skated over to him and said the U of T player should not be penalized because the trip was accidental. And as Queen's ran up the score in that 13-3 thrashing of McGill in 1906, he asked the referee to call no more penalties against McGill
His playing career ended in 1912 and he worked in the family business and served on the executive of the Kingston Junior Frontenacs.

On the morning of Aug. 4, 1914, Richardson heard England had declared war on Germany. His reaction was immediate: "That means me." Less than a week later Richardson was among the first group of volunteers from Kingston to join the British war effort. After intensive training, he was sent overseas as a company commander. Of his war service it was said that "no braver or more considerate officer ever held His Majesty's commission."
Indeed, not satisfied with the quality of the boots supplied to the men under his command, Richardson journeyed to England and bought 300 pairs of new boots for them. Later, when German mustard gas attacks had begun and his troops had no protection against the deadly substance, he returned to England and obtained gas masks that had recently been invented by an English firm. He paid for both of these purchases out of his own pocket.

On the night of Feb. 9, 1916, Richardson was leading a patrol that was spotted by German forces that opened fire. The patrol was almost wiped out. Richardson, though severely wounded, made it back to the British trenches but died of his wounds the following morning. He was twenty-nine years old.

The Queen's Journal declared of Richardson: "No man at college was so widely known and so thoroughly liked. Not only was he the best player in hockey and football on teams which brought home intercollegiate championships, but his reputation for clean and true sportsmanship became a tradition". The Toronto Telegram called him "a hero in sport and war."
The previous year, in 1915, Kingston had seen another local hockey star killed in action, Allan (Scotty) Davidson. The loss of these two fine young men, plus many others, led Captain James T. Sutherland to establish the Memorial Cup in 1919, in memory of the hockey players who had fought and died for Canada.
It took over three decades to be recognized, but in 1950, Richardson and Davidson were inducted together into the Hockey Hall of Fame.