Bruiser and playmaker Wayne Cashman
When Boston Bruins' left winger Wayne Cashman went into a corner for a loose puck, opposing players were nervous.

"You could see a guy go into a corner after the puck, and just before he got to it, he stopped and flinched a bit when he saw Cash. That's when you knew you got him on the ropes," said teammate Derek Sanderson.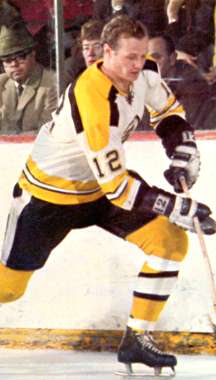 The Kingston-born Cashman played in more than 1,000 NHL games, all for the Boston Bruins. This would be unheard of today, in an era when fading stars are quickly traded for fresh legs. He is one of only four players from Kingston who have achieved the 1,000 game mark – the others are Doug Gilmour, Kirk Muller and Bob Murray. He was both a bruiser and a playmaker, racking up 277 goals and 516 assists during his career. In fact, the line of Cashman, Ken Hodge and Phil Esposito set an NHL scoring record in 1969-70 with 140 goals.

Cashman got his start playing as a child in Kingston rinks in the early 1950s. He went on to lead a Kingston midget team to an Ontario championship in 1961.

He joined the Bruins in 1968 and played with them for 17 seasons, serving as captain for the last six. He helped the team win the Stanley Cup in both 1970 and 1972.
Cashman played in two games in the famous 1972 Summit Series against the Soviet Union, missing the rest due to an injury. After Canada won the series in the final minute of the last game, Cashman commented: "I've never seen so many tears shed in a dressing room – tears of joy."

When Cashman hung up the skates in 1983, he was the last player from the Original Six to do so. After his playing days were over, he spent 16 years as a coach in the NHL, including a brief stint as a head coach with the Philadelphia Flyers. He ended his hockey career where it started – in Boston in 2006, when he retired.