Taylor Hall tops Kingstonians in NHL draft history
The 1984 NHL Entry Draft at the Montreal Forum had plenty of intrigue. Mario Lemieux was the consensus top pick, a generational player after scoring 133 goals and 282 points for Laval of the Quebec Major Junior League. Pittsburgh had the top pick and prior to the draft contract talks between Lemieux and the Penguins had broken down. Could Pittsburgh sign Lemieux if they drafted him? They took the chance and while Lemieux did join the Pittsburgh brass on stage, he refused to put on a Penguins jersey. Of course, he did wind up signing with the Penguins and the rest is history.

Waiting in the wings that day at the Forum was Kingston's Kirk Muller. He didn't have to wait long - sporting a new white suit - Kirk went second overall to New Jersey. Muller had played in the OHL as a 15-year-old with his hometown Kingston Canadians, before going into the OHL draft where he was the first pick overall by the Guelph Platers. A character player, Muller was named captain in New Jersey after his third NHL season and 'Captain Kirk' enjoyed a 19-year NHL career, that included a Stanley Cup winning goal in Montreal in 1993.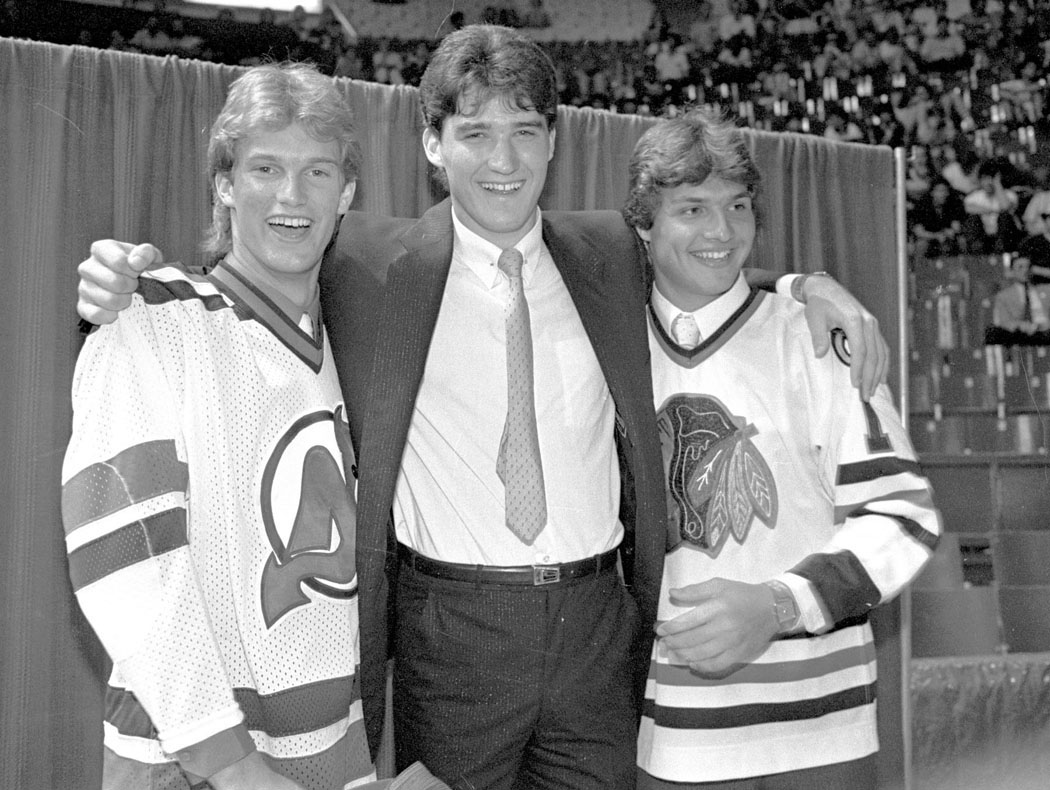 Also in that '84 draft the Quebec Nordiques took Muller's Guelph teammate, Trevor Stienburg, 15th overall. Stienburg was from the tiny village of Moscow, near Napanee, and while injuries limited Stienburg to just 71 NHL games, he has enjoyed much success as a CIS coach with St. Mary's University.

2010 was the year of the 'Tyler or Taylor' debate, as to who would be the top pick in the draft. Taylor Hall from Kingston was coming off back to back Memorial Cup wins for the Windsor Spitfires and the first player to be named tournament MVP on two occasions. Tyler Seguin had a 106-point season for the OHL's Plymouth Whalers and both players were deemed worthy of being picked No. 1 overall. Edmonton held the first pick and they opted for Hall, becoming the only Kingston player to hold that distinction. Boston took Seguin second overall and after three seasons in Boston, off-ice issues led to him begin traded to Dallas. Hall has become a cornerstone of the Oilers and one of the NHL's best left wingers. Almost lost in the Taylor vs. Tyler debate, was the fact strapping Kingston Frontenacs defenceman Erik Gudbranson went third overall to the Florida Panthers.

Since the modern era of the NHL Entry draft began in 1979, many Kingston players have been drafted in the first round. In 1993, Kingston Frontenacs forward Chris Gratton went third overall to Tampa. Gratton had a solid NHL career, playing in more than one thousand NHL games.

Several Kingston players have gone fourth overall, most recently Sam Bennett of the Kingston Frontenacs to Calgary in 2014. Glenburnie's Bryan Allen went fourth to Vancouver in 1998 and Chad Kilger was taken fourth by Anaheim in 1995.
Other notable Top Ten picks with a Kingston connection include the late Bryan Fogarty, who broke Bobby Orr's OHL scoring records for a defenceman, was taken ninth overall by Quebec in 1987.

The Leafs spent high draft picks on Kingston players over the years; in 1988 Kingston Canadians forward Scott Pearson went sixth overall to Toronto. In 1992, Kingston native Brandon Convery, playing for Sudbury, went eighth overall to Toronto and in 1990 Drake Berehowsky, a Kingston Frontenacs defenceman, was taken 10th overall by the Leafs.
In 1994, Brett Lindros from the Frontenacs went ninth to the NY Islanders; concussion problems limited him to just 51 NHL games after signing a 5-year, $7.5 million dollar contact.
Prior to the modern era of the NHL draft, in 1978 three Kingston Canadians teammates were drafted consecutively in the first round; Mike Gillis, Behn Wilson and Ken Linseman went five, six, and seven in the draft. Gillis to Colorado, Wilson and Linseman both to the Flyers. Mike Crombeen went fifth to Cleveland in 1977, Boston took Ron Plumb ninth in 1970, and prior to expansion the Bruins took Rick Smith seventh overall in 1966.

Being picked in the first round of the OHL draft is not necessarily a predictor of future NHL success. In 1975, the Washington Capitals took Alex Forsythe with the 18th pick overall from the Kingston Canadians. Forsyth had good size, was an excellent penalty killer and had scored 27 goals for the second year Canadians franchise. But his NHL career would only amount to one NHL game played for Washington. Ultimately, he wound up back in Kingston where he enjoyed a long career as a Kingston police officer and is now coaching minor hockey.