O'Ree and McKegney blazed trail for today's black players
When Kingston briefly hosted a professional hockey team a half century ago, it was also the home of a trailblazing black player named Willie O'Ree.
While the Kingston Frontenacs of the Eastern Professional Hockey League only lasted four years, from 1959-1963, O'Ree spent many years in both the NHL and the minor leagues. When the EPHL folded, the Kingston team was moved to Minneapolis as part of the Central Professional Hockey League.
O'Ree broke the colour barrier in the National Hockey League on Jan. 18, 1958, eleven years after Jackie Robinson became the first black player in baseball. Friends and family from O'Ree's native New Brunswick traveled to Montreal to watch him make history as he played for the Boston Bruins in a 3-0 victory over the Canadiens.


He faced racial slurs both on and off the ice. He said: "Fans would yell, 'Go back to the South' and 'How come you're not picking cotton?' Things like that. It didn't bother me. I just wanted to be a hockey player, and if they couldn't accept that fact, that was their problem, not mine."

O'Ree's stint in the NHL was short. He was sent to Kingston for the 1959-60 season, where he put on a strong showing with 21 goals and 25 assists. He returned to the Bruins the following year, but that would be his last season in the NHL. He spent most of his 21 years of professional hockey in the minor leagues.

Even at the age of 80, O'Ree is still involved in hockey, working with the NHL to promote diversity in the sport.

Fans attending games of the modern-day Kingston Frontenacs will notice a banner honouring another black player, Tony McKegney. He was a star with the Frontenacs' predecessor, the Kingston Canadians, racking up 382 points in four seasons with the team from 1974 to 1978.

When it came time to turn pro, McKegney's race stirred controversy. He was expected to sign with the World Hockey Association's Birmingham Bulls, but the team owners were worried that a black player would not be popular in Alabama.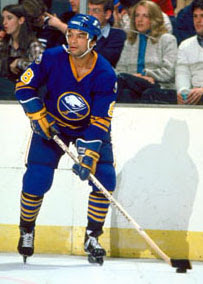 Instead, he joined the Buffalo Sabres, where he became the game's first black star. During his 13 years with seven NHL teams, he scored 320 goals and earned 600 points.

Pioneering players like O'Ree and McKegney paved the way for today's black standouts, including PK Subban and Jarome Iginla.