The Father of Hockey:Captain James Sutherland and the Battle
for Hockey's Hall of Fame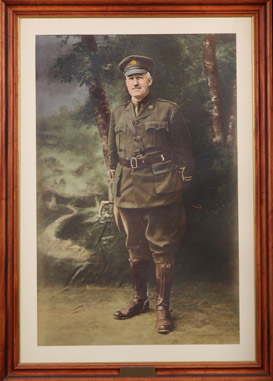 Captain James Sutherland
Player, coach, manager, referee, hockey
administrator and founder of the Original
Hockey Hall of Fame
The Beginning
During the late 1800s, a young James Sutherland loved sport. But, the one sport that most fascinated him was a game played on the ice in front of the city hall during the cold Kingston winters. The game would be his passion, he would not only champion the creation of an amateur hockey association, he would help modernize the game he so loved. He pushed for, and achieved several rule changes and increased player safety. He also introduced the Memorial Cup after losing two of his favourite players to The Great War.
During the 1930s, he was a champion of the game and argued for Kingston as its place of origin. His arguments were so loud and so eloquent that Montreal and Halifax soon took a back seat to Kingston's claims. And, when he happened upon the newly constructed Baseball Hall of Fame in Cooperstown, it seemed fate had intervened. Sutherland was struck by the idea that hockey needed a shrine as well.
By the early 1940s, despite a World War and shortages, he had convinced the Canadian Amateur Hockey Association and the NHL to pledge cash and support for a Hockey Hall of Fame to be built in Kingston. A local committee was struck and fundraising began.
By the mid-50s things began to unravel. There was disagreement over the proposed site for the hall in Kingston. The NHL withdrew its financial support and decided on its own course of action. And time caught up to James Sutherland, he died before there was even a single thought of a shovel hitting the ground to begin construction of a Kingston hall.
Visit www.fatherofhockey.ca - official video website