Tom Carty Traded a Low-Paying Hockey Career for the Classroom
After serving as captain of the Peterborough Petes, Kingston's Tom Carty headed to the Montreal Canadiens training camp in 1963, along with dozens of other NHL hopefuls. From there, he was sent to the Montreal affiliate in Omaha - where he was offered a salary of $3,600 per year.
It was definitely a different era. Minor league players were paid a pittance and even the six-team NHL had a minimum salary of just $7,000. NHL team owners had all the power and players had little, often retiring with nothing after playing for years.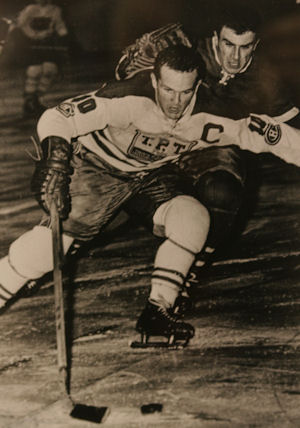 Today, the average American Hockey League player earns $90,000 annually, with a floor salary of $50,000. In the NHL, the minimum pay is $700,000 and of course many players earn several million dollars per season.
"When I arrived in Omaha, I told them that I could make more money working on the production line at the Alcan plant in Kingston," Carty recalled recently. He eventually agreed to sign for $4,500.
The Omaha Knights of the Central Professional Hockey League had a great season in 1963-64, capturing the league championship. In 72 regular season games, Carty scored 18 goals and had 24 assists. He received a $500 bonus for the playoffs.
Despite the championship and his own solid season, Carty was ordered to report to the Springfield Indians, a team run by the notoriously tough Eddie Shore.
It was a common tactic used by team managers at the time. The NHL Players Association had been formed in 1957 but union-busting owners responded by sending player organizers to the minor leagues. It would take another decade before the NHL players' union would get established.
"Omaha didn't provide any explanation about why I was being sent to Springfield, but I suspect it was because I complained about the salary," Carty says.
Former Peterborough teammate and future NHLer Barclay Plager skated for Springfield and cautioned Carty about moving there. One of his former coaches in Kingston, Bob Senior, also played under Eddie Shore. "Both Senior and Plager talked a lot about how awful it was," Carty recalls.
He decided to quit rather than report to Springfield. He returned to Kingston and then enrolled in teacher's college in Peterborough. He went on to teach and coach for 34 years at Holy Family School, Regiopolis-Notre Dame Catholic High School and Holy Cross High School.
Growing up in Kingston, Carty only began playing hockey at the age of 12. His first coach was Don "Pete" Petersen, the inspirational founder of the Knights of Columbus Basketball League. "He had the right attitude for a hockey coach - play hard and have fun."
Bob Senior coached his midget team in Kingston. Despite losing part of his hand in a childhood accident, Senior had played professional hockey in Springfield, New Westminster and Three Rivers.

Carty joined the Peterborough Petes in 1959, serving under the legendary coach Scotty Bowman. "I really liked Bowman's style. He didn't sugarcoat anything. If you had trouble taking direction, you weren't going to work out."
"Both Senior and Bowman were very direct. They had your welfare at heart - they saw the connection between sport and building character. It wasn't just about winning. I've found that all the best coaches enjoy the work and care about the players. And the players know that."
Carty went on to earn the captaincy of the Peterborough Petes in 1961 under coach Frank Mario. "We had a very young team and I wanted to make the new players feel welcome," Carty recalls. He adopted a style that was supportive rather than lecturing. Unfortunately, Carty broke his knee just before Christmas that year and had to sit out the rest of the season.
"I loved playing in Peterborough and loved being the captain," he says. "It was a real honour."
Bowman eventually moved on to coach with Omaha and the two were reunited there - briefly. Bowman led the team to a 10-0 record before quitting after arguing with the team owners about the poor quality of the players' equipment. Nevertheless, his systems were in place and the team went on to the league championship.
After leaving Omaha, Carty returned to Kingston but it took a while for his amateur status to be restored. He joined the Kingston Senior A Aces and helped lead the team to the Allan Cup Eastern Canadian Senior Hockey Finals. The squad earned a berth in the 1967 Spengler Cup in Switzerland, but Carty was too busy teaching to take a week off to travel overseas.
Playing senior hockey and teaching was sometimes a tough combination. "I remember that one weekend we got back from a game in Woodstock at 4 am on Monday. I didn't even bother to go to bed and went straight to school. Unfortunately, the inspector was assessing my work that day and he wanted to know why I was so tired in the afternoon."
In some ways, Carty was before his time. Just a few years after ending his pro career, the NHL would expand from six to 12 teams, doubling the number of players. And when the WHA was established in 1972, it sent demand for players - and their salaries - soaring.
Tom Carty, who was also an elite baseball and softball player, was inducted into the Kingston and District Sports Hall of Fame in 1999.