Kingston's 5 Stanley Cup Winning Goals
For a city the size of Kingston it is quite remarkable we have five players who have scored Stanley Cup winning goals. Three of those Cup winning goals came in less than a decade; Ken Linseman with the Oilers in 1984, Doug Gilmour for Calgary in 1989 and Kirk Muller in Montreal in 1993.
For the longest time we thought there were only four; Bill Cook scored the first overtime goal to win the Stanley Cup for the New York Rangers in 1933. But, it turns out there was another Kingston player who scored a Stanley Cup winning goal before the NHL began in 1917.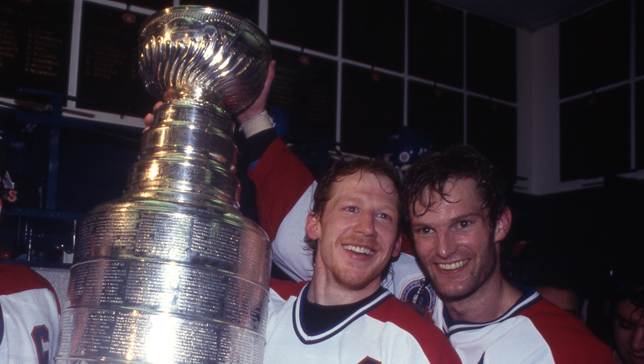 Allan (Scotty) Davidson was a star in the National Hockey Association (the NHA as it was known), and he scored the Cup winning goal for the Toronto Blueshirts in 1914. It was the first Stanley Cup winning team for the City of Toronto. In those days the Stanley Cup final was a two-game, total goals series and Toronto played the rival Montreal Canadiens. With Georges Vezina in goal, Montreal shutout the Blueshirts 2-0 in the opening game. However, it was a much different story in the second game as the Blueshirts romped to a 6-0 win. Scotty Davidson scored two third period goals, one of those goals gave Toronto a 3-0 lead and overall a 3-2 series lead in goals. It would stand up as the Cup winning goal.
Davidson, who grew up in Portsmouth Village, had led his hometown Kingston Frontenacs to back to back Ontario Junior titles in 1910 and 1911 before turning pro. As it turned out, his Cup winning goal came in the last game he ever played.
The First World War broke out in July 1914, and it was reported Davidson was the first pro hockey player to enlist. He joined the Canadian Expeditionary Force 2nd battalion, signing his attestation papers in September that year. Several months later, on June 16, 1915, he was killed by a German bomber on the battlefield in France. Davidson was just 24 years old.

Following his death, the Memorial Cup was launched in 1919 to honour Davidson and other hockey players who died for their country. In 1925 Maclean's magazine named Davidson to right wing on its all-time hockey team. In 1950 he was inducted into the Hockey Hall of Fame. By all accounts Davidson was a prolific player and a natural goal scorer. We'll leave the final word to his former coach and a fellow inductee of the Hockey Hall of Fame, Captain James T. Sutherland, who said Davidson "was as good as any player to ever patrol a wing position".