In Memoriam: Hockey Historian and Former Hall President Bill Fitsell
By Mark Potter, Past-President of the Original Hockey Hall of Fame
With the sad news of the passing of J.W. 'Bill" Fitsell at age 97, Kingston and the hockey world has lost its preeminent historian. Bill dedicated his life to chronicling and researching hockey, writing volumes on the early origins of the sport, the greats of the game, and bringing to life many of the wonderful Kingston hockey stories.
For me, I have lost a friend of 40 years, a mentor, great supporter, and a father-like figure who for decades provided guidance and advice while championing the Original Hockey Hall of Fame and everything Kingston.
No one contributed more to hockey in Kingston than Fitsell, not even the legendary Captain James T. Sutherland. Known as 'The Father of Hockey', Sutherland founded the International Hockey Hall of Fame and started the Memorial Cup, among a long list of other achievements. Bill wrote the book on hockey when he authored How Hockey Happened in 2006. It traced the early origins of the game from the European stick & ball games; bandy and hurley, to the British soldiers who brought the game to Halifax and later to Kingston. Bill would get a little prickly when Windsor, Nova Scotia would call itself the birthplace of hockey; he strongly refuted their claim which in his view was based on a book of fiction.
In 2003, I collaborated with Bill on the book, 'Hockey's Hub – Three Centuries of Hockey In Kingston', and in the early days of working on the book I suggested we should follow the lead of the legendary Capt. Sutherland, who had championed that hockey started in Kingston. Bill, quickly set aside his hometown bias and said emphatically the first organized game was played in Montreal in 1875, eleven years before the first game played on the Kingston harbour.
Bill would never talk about his own impressive credentials; among them he was inducted into two sports halls of fame; in Lindsay ON, where he grew up, and here in Kingston. He started the Carr-Harris Cup game in 1986 to formalize and honour the longest-running rivalry in hockey between Queen's and RMC. In 1991, he created the Society for International Hockey Research, bringing together hundreds of hockey researchers from around the world to share their work.
A gentle, kind man, Bill had a dry sense of humor and a quick wit. His most memorable joke was delivered in the early years of the Carr-Harris Cup. Queen's had handed RMC a lopsided loss and he was presenting the MVP awards to each team at the post-game ceremonies. For the MVP from RMC, Bill quipped, "I'd like to acknowledge the trumpet player in the RMC band, he is the only cadet who can play"!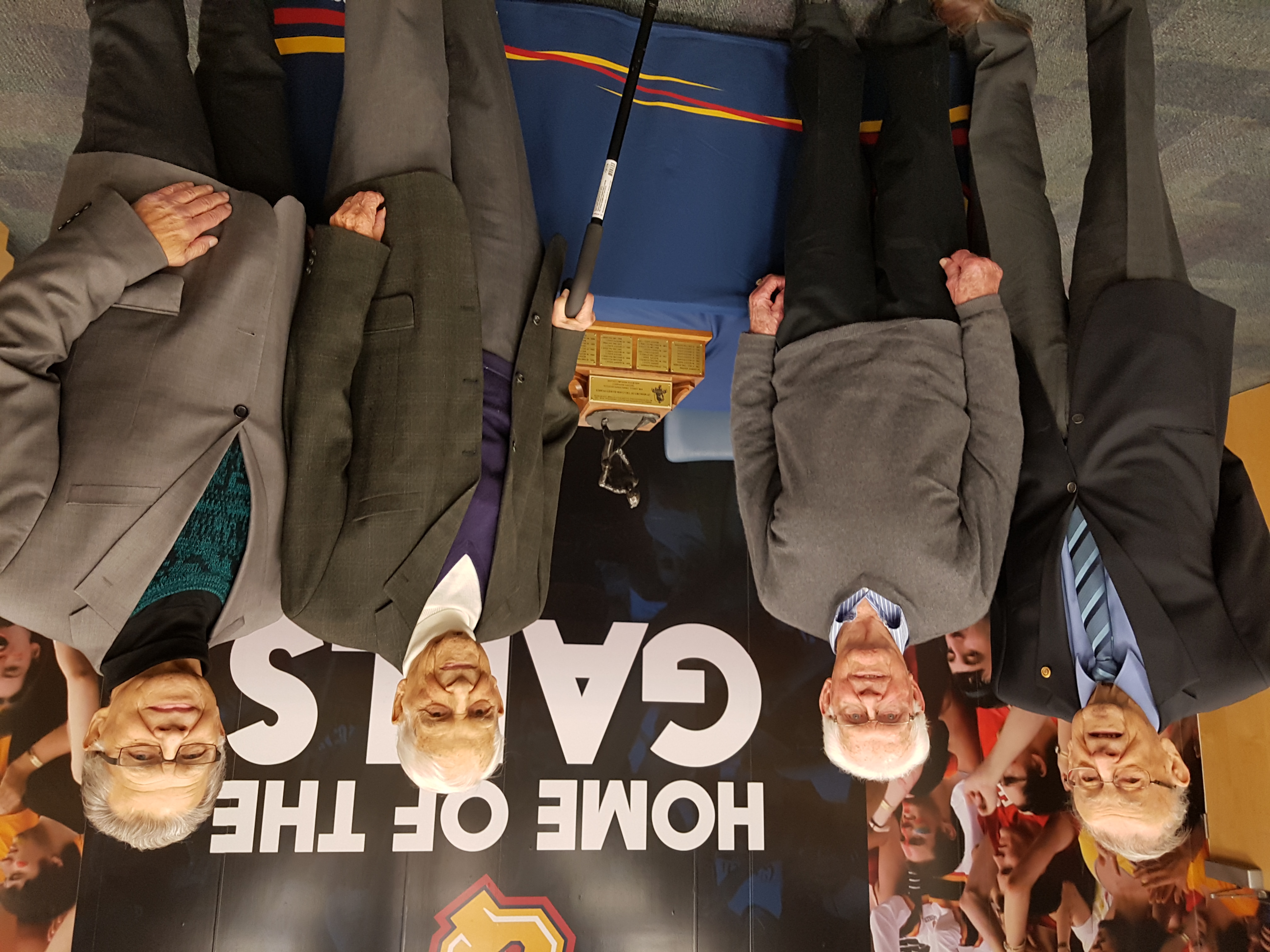 In the pre-technology days, Bill was famous for always carrying index cards, he would make a note whenever he heard an interesting hockey fact or anecdote. When Bill wrote Hockey's Hub, he managed to turn hundreds of index cards into a coffee table book that sold 2,000 copies.
One of my fondest memories of Bill came two years ago at the 75th anniversary celebrations for the Original Hockey Hall of fame. The day was a great source of pride for our museum, we had the Stanley Cup and the Memorial Cup on hand and I asked Bill to make a few remarks to reflect on his years with the Hall of Fame. Bill had a speech prepared, but asked me to read it because he wasn't feeling up to it. At the last minute, at age 95, he decided to deliver it himself. He slowly approached the podium and then proceeded to deliver a stirring, passionate speech that spoke to his great love of hockey and Kingston. He had never been better.
For decades, Bill was a great resource for hockey fans far and wide who had questions about the history of the game or wanted more information on a hockey artifact. Bill loved the challenge and would meticulously research any question sent his way. With his passing, many have posted online how Bill was so gracious and went above and beyond to answer the inquiries of complete strangers.

While he had a great love of hockey, his love of family came first, Bill and his wife, Barbara, recently celebrated an amazing 75 years of marriage and they have five daughters. As Bill would say proudly, they were just a goalie shy of icing an all-Fitsell team.
He also loved the newspaper business. A 'Navy Man', although he rarely spoke of it, he had served in the Royal Canadian Navy during the Second World War. After the war, he returned home to Lindsay to work as a writer/reporter for the local paper. From there he moved to the Gananoque Reporter and ultimately had a lengthy stint as a popular feature writer and columnist at the Kingston Whig-Standard.
In 1961, Bill made his own history when Bobby Orr was discovered by NHL scouts at a bantam tournament in Gananoque. He snapped an historic photo of Bobby and his Parry Sound teammates at a local diner. In later years, the legendary Orr would autograph the photo for Bill, one of his many prized hockey possessions. He also had a lifelong passion for the Toronto Maple Leafs, especially admiring Charlie Conacher and the classy Syl Apps Sr.
Bill was a prolific writer, publishing books and research papers well beyond the age of 80. He lived a full life, enjoying good health right up until the last couple of years. He never ran out of projects, he just ran out of time. At the time of his passing, he was putting the finishing touches on one final book: Hockey's Lines: Victory In Verse, a book of hockey-related poetry, that I hope gets published.
I will leave the last word to Stephen Smith, a friend of Bill's, fellow author and historian who wrote in a recent tribute; "In a Lady Byng Trophy context, his proficiency at what he does is only exceeded by his good grace and gentlemanly conduct".
Rest well my friend, and thank you for enriching the lives of so many in the hockey world.