Don Goodridge was a top official in OHL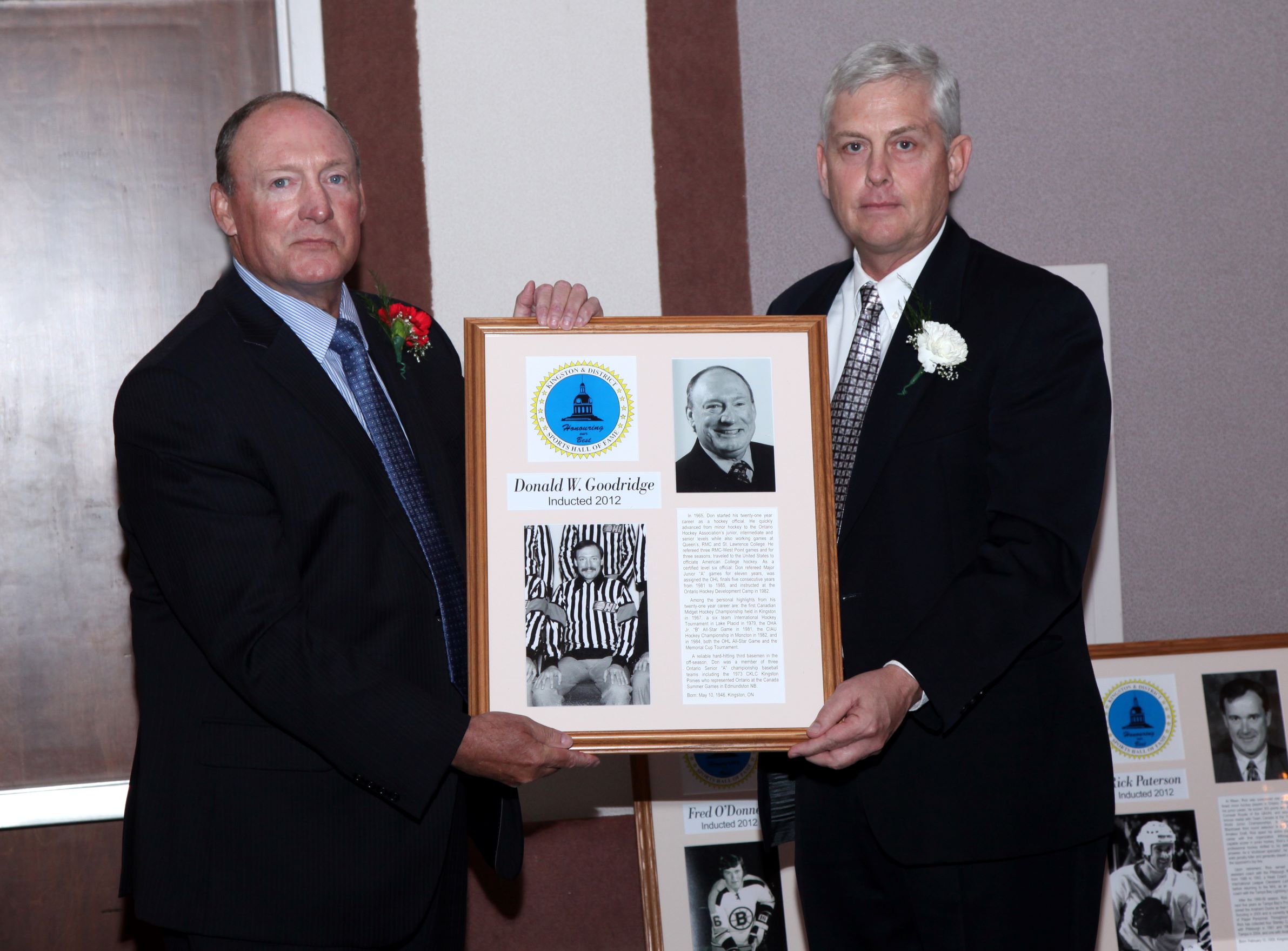 Don Goodridge's hockey playing days came to an abrupt end in his first year at Queen's University in 1965.
He tried out for the Golden Gaels but coach Bob Carnegie told him: "You're not quite there yet. Why don't you play intramurals and I'll get you in a game before Christmas."
A disappointed Goodridge joined the intramural team – and promptly got suspended for fighting. "I showed my lack of maturity and that was it for me," he recalled in an interview with the Original Hockey Hall of Fame.
His uncle, Ken Goodridge, was the referee-in-chief of the Kingston Rotary-Kiwanis league and suggested he try officiating. Don was reluctant but gave it a shot. "You got paid $2 a game and at that time a draft beer was 15 cents so it would give me some cash for Thursday student pub nights," he says.
With a couple of tips from his uncle, he was thrown into the fire of youth hockey. "I had no training whatsoever. It was basically survive or get out."
Goodridge did more than survive; he thrived in the officiating world. It would eventually lead him to be one of the top officials in the Ontario Hockey League and to referee in the Memorial Cup.
"It allowed me to stay in the game I loved, keep in shape, and earn some money as a poor university student."
Within a few years, he was officiating games in Junior B, provincial university play and local tournaments. At the same time, he started a full-time career as a teacher at LaSalle Secondary School.
However, it was difficult for a referee in eastern Ontario to catch the attention of the hockey brass in Toronto. When he finally got a break, it wasn't a senior official who noticed him. It was a coach. In 1975, University of Toronto coach Tom Watt phoned Ontario Hockey Association chief Dave Branch after Goodridge officiated a Queen's-U of T game.
Branch called Goodridge and invited him for a tryout at a Toronto Marlboros Major Junior A exhibition game at Maple Leaf Gardens. "I don't think I was ever as nervous on the ice, even reflecting back on all the high-level games that I later worked," Goodridge recalls.
He passed the test. All of a sudden, he was crisscrossing the province to officiate games in all the cities in the league. Despite the busy schedule, he never missed a day of teaching at LaSalle. By that time, training had improved and the Canadian Amateur Hockey Association was certifying officials. Goodridge obtained the highest possible level, allowing him to officiate in national championships and international tournaments.
Some games were routine and others were remarkable. In 1977, there was a huge buzz around a teenage phenom from Brantford who had just joined the Soo Greyhounds. "Imagine being on the ice with Wayne Gretzky, for goodness sakes. I officiated at his very first game at Maple Leaf Gardens."
At other times, games could be rough and tumble – both with the players and the fans. He recalls one night in Oshawa he saw out of the corner of his eye a fan getting ready to dump a hot coffee on him as he stood by the timekeeper's bench to record a penalty against Ottawa 67s player Behn Wilson. Fortunately, Wilson saw the fan too – he tapped the man's arm with his stick and the coffee fell behind the glass.
A few minutes later before a faceoff, Goodridge whispered his thanks to Wilson. "I don't know what you're talking about," Wilson replied. "And you're still blind." Then he winked at Goodridge.
On another occasion in Toronto, Goodridge was checking the starting lineups and noticed that a bruiser defenceman, John Odam, was marked in at centre. Goodridge warned his fellow officials that trouble was brewing. As the teams were lining up for the opening faceoff, Odam quietly told Goodridge: "Drop the puck and get out of the way. We had some problems with them last week and want to get that sorted out."
Sure enough, as soon as Goodridge released the puck a bench-clearing brawl ensued. "Fortunately, that cleared the air and for the rest of the game there were only two or three penalties," Goodridge recalls.
Like all officials, Goodridge was careful to be respectful to all the players and coaches, while avoiding getting too close.
His goal was to get the same respect in return. One time he was chatting with Soo Greyhounds coach Terry Crisp, who would go on to be a bench boss with Calgary and Tampa Bay. Said Crisp: "You know Don, I think you're half blind. But we get the same consistent game at home or on the road."
For Goodridge, that was the ultimate praise. Be fair, respect everyone, and call the game evenly.
For three years, he officiated at US intercollegiate games in New York state until the officials' union nixed having a Canadian member.
Then he and the other officials got whacked by hockey politics. Dave Branch decided that the major junior league (now the OHL) needed dedicated officials. Goodridge signed on. However, the OHA was disgruntled and took away the certification of all the OHL officials – although several years later they got them back.
His career highlights were refereeing five OHL final series in a row starting in 1981 and officiating at the 1984 Memorial Cup in Kitchener. And then, at the height of his career, Goodridge hung up his skates.
"I had just been appointed as the principal at LaSalle and needed to dedicate 100 percent of my time to my educational career," he says. It turned out to be a smart move as he would go on to serve as the director of education in Hamilton and later Vancouver.
Even though he put away his whistle almost four decades ago, he still follows the shifts in hockey officiating. He grudgingly accepts the importance of video reviews, but wonders what they take away from an official's ability to manage the game and keep it flowing. Nowadays fans sit on their thumbs while waiting for officials to spend several minutes reviewing a goal.
With advancing technology, in a few years there may be no need for linesmen, he suggests. While that may seem far-fetched, look at how automated line calls are replacing line judges in tennis. Except for breaking up fights, hockey linesman could be left with little to do.
It's a long way from Kingston's Rotary-Kiwanis and Church Athletic League, when there were only two officials on the ice and both had to hustle from end to end to call penalties, offsides and icing.
In refereeing, Goodridge used the same approach as a high school principal. "The most important element was knowing how to work with people and be a role model. You had to treat people fairly both on and off the ice."
Goodridge was inducted into the Kingston and District Sports Hall of Fame in 2012. In addition to officiating, he was an outstanding third baseman with the Kingston Ponies, helping them win three Ontario Senior A championships.