Will Queen's hockey ever get a new home?
When the Queen's hockey team decamped from the Jock Harty Arena in 2008 and moved to the Memorial Centre, coach Brett Gibson was not expecting to be there 11 years la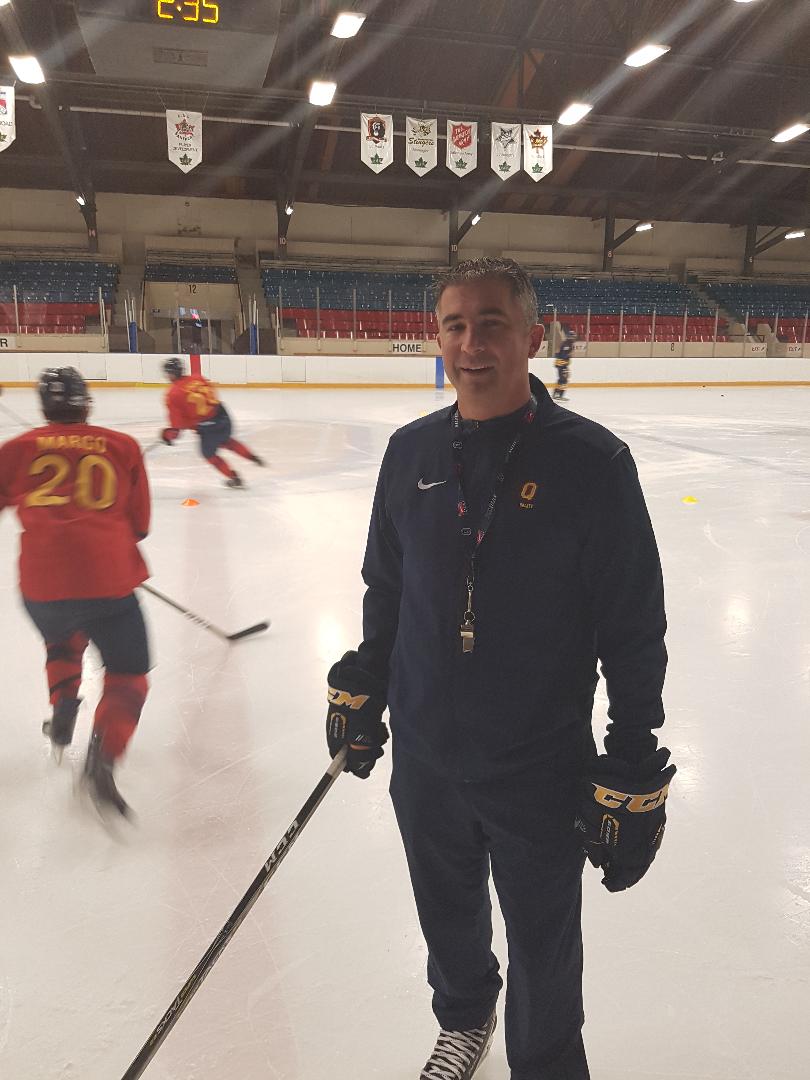 ter.
The Jock Harty was razed to make way for the new Athletics and Recreation Centre and other facilities. At the time, the hope was that Queen's would soon have a new state-of-the-art hockey shrine.
Instead, it has become like the Toronto Maple Leafs' five-decade-long search for the Stanley Cup. Everyone talks about it, but progress is elusive.
"I honestly thought we would have a new arena within five years," says Gibson, speaking from his cramped office underneath the stands at the Memorial Centre. "A decade later, I've come to the conclusion that it may not happen and I am OK with that."
Built in 1970, the Jock Harty Arena was nothing special. A victim of the brutalist architectural trend of the time, it looked more like a Second World War bunker than an ice rink. It was quirky too. On the roof were six tennis courts - it was a long walk to retrieve an errant ball that went over the fence. A running track circled above the rink, allowing runners to peer down at hockey practice.
"Those were the days before there was netting behind the goals," Gibson recalls."I am amazed that none of the runners got hit by a puck."
Despite its flaws, the Jock Harty had one singular advantage: Location, location, location. Students would stop by between classes to watch practice or catch a game in the evening.
The Memorial Centre just seems too far away for fans on foot. "It's only three blocks away but it's too bad that we don't have a rink on campus," Gibson says.
Ironically, the Memorial Centre is even older than the Jock Harty was when it was demolished. Built in 1951, the facility is long past its prime.
Instead of worrying about the arena, Gibson has been spending his time building a hockey powerhouse. When he became coach in 2006, he was only 25, barely older than some of the players. He grew up in Gananoque, played for a couple of years of professional hockey in the ECHL and earned a commerce degree from St. Mary's University in Halifax.
However, he got the news that his father had a terminal illness and returned to the Kingston area to be with him, taking on the Queen's coaching position.
At the time, few people were optimistic about Queen's chances for hockey greatness. With its high academic standards, critics said that the team would not be able to attract players with both hockey skills and book smarts.
Gibson proved them wrong. Today, the Queen's team is in second place in the OUA East Division and ranks in the top 10 across Canada. Almost half the players are Academic All-Canadians, a designation given to varsity athletes who also maintain an average of 80 percent or higher.
Women's hockey coach Matt Holmberg says that while the arena isn't ideal, it has had no impact on the team's ability to win. He notes that the Queen's women captured OUA championships in both 2011 and 2013.
Still, having to share an arena with other users has its challenges, Holmberg notes. Each September the Kingston Fall Fair is held at the Memorial Centre, which means there is no ice until October. For training camp, the team must scramble to find ice time at other local arenas. One year, the ice was out in February when the rink was turned into a beer garden for a curling bonspiel.
The Jock Harty Arena has a storied history. The original steel structure was built in 1920, replacing the old covered rink constructed on campus in 1891. "It was a vast improvement over the old Richardson rink and the Holt rink, constructed from two Deseronto airplane hangars at RMC in 1920," wrote authors Bill Fitsell and Mark Potter in their book Hockey's Hub.
The facility was named in honour of hockey great John "Jock" Harty. Born in Kingston in 1874, he graduated from Queen's in medicine and later became president of the Canadian Locomotive Company. The CLC manufactured train locomotives on Ontario Street, where the Carruthers Wharf condos currently stand. After retiring as a player, Harty became a coach, leading the Queen's team to an Allan Cup victory over Ottawa in 1909.
Tragically, he died in 1919 while on a business trip to England. He was one of 50 million people worldwide killed by the Spanish Flu pandemic that year.
The original Jock Harty Arena opened in 1922 after Harty's family and friends raised funds for a facility in his honour. It burned down two years later and was rebuilt. In 1970, the "new" Jock Harty Arena opened at the corner of Union and Division streets.
Today, Gibson is hoping that there are supporters out there who will donate funds for the next Jock Harty Arena. It happened in football, where former CFL great Stu Lang and his wife Kim gave $10 million to rebuild Richardson Stadium. Along with a $5 million donation from the Richardson family, this allowed Queen's to construct the new football facility.
"I honestly think it will take a major donation from an alumni before we will see the new arena," Gibson says.
Holmberg can't wait. Pointing to the successful construction of the Athletics and Recreation Centre and Richardson Stadium, he says: "When Queen's decides to build something, they do a heck of a job at it."