JAYNA HEFFORD: KINGSTON'S MOST-DECORATED OLYMPIAN
In February 2002, the United States was still reeling from the horrific Sept. 11 attack the previous fall. At the Winter Olympics in Salt Lake City, the country was hungry for gold to bolster its pride. In women's hockey, the dominant US team had cruised through the preliminary rounds – in fact it had won 31 games in a row.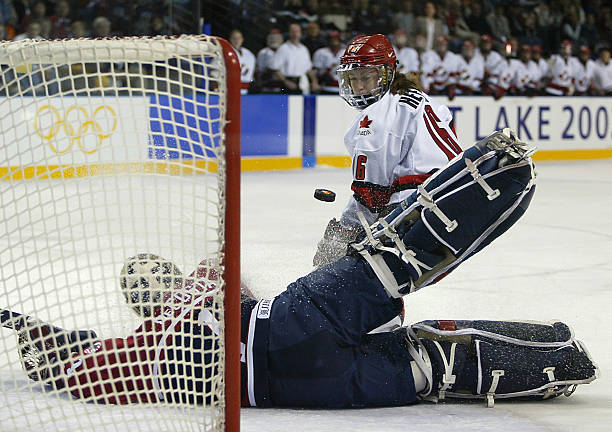 "We were the underdogs and weren't expected to win," recalls Kingston's Jayna Hefford.
The crowd of 8,600 was chanting "USA, USA" as the gold medal game between Canada and the US began. Caroline Ouellette got Canada off to a strong start with a goal less than two minutes in. Early in the second period, the US tied it up. Then Canadian star Hayley Wickenheiser scored to give Canada a 2-1 lead.
The clock was ticking down in the second period. Hefford fired the puck with just one second left to extend the lead to two goals. It proved to be the gold-medal winning goal as the US came back to score in the third period, but could not net the tying goal.
For Hefford, it was one of the highlights of her career – her first of four Olympic gold medals. She is Kingston's most decorated Olympian, with the four golds and a silver medal from Nagano.
Raised in Kingston, she started playing hockey at the age of 6, after years of hanging around rinks watching her older brother's games. She credits her parents, Sandra and the late Larry, for helping to motivate her.
"They instilled a passion in me," she says over the phone from Toronto. "They encouraged me to follow a dream even though it wasn't that common for a young girl growing up at that time."
Behind every great player is a great coach. Hefford was lucky to have Beth Duff guide her on almost every Kingston Kodiaks team until she left the city to join the University of Toronto Varsity Blues.
In addition to teaching skating and stick-handling, Duff was a mentor to Hefford. "She focused on character building and mental preparation, which wasn't very common at that time," she says. Duff's guidance instilled in her a powerful determination and resilience.
Her 17-year career with the national women's team took her to five Olympics and she won six World Championships. She was a star in the Canadian Women's Hockey League. Hefford retired in 2015 at the age of 38.
She now coaches hockey at the University of Toronto, although she is on maternity leave to care for her 8-month-old baby. Hefford and her partner Kathleen Kauth, a former on-ice opponent with the US women's hockey team, have three children.
Even with her busy home life, she still plans to be in Kingston for the 21st annual summer hockey camp with teammate Lori Dupuis.
Her advice for young girls? "It's important to be passionate about the game and to follow that dream. Today, there are a lot of opportunities for female players to get a good education as well as play hockey. There are so many character traits learned through hockey that are valuable assets throughout life."