Jim Hulton named CHL Coach of the Year
The Royal Military College hockey team hasn't had a winning year in its modern history of more than three decades. That's not surprising, given that the school has an enrolment of only 1,500 students and that its focus is on academics and military training – not sports.
For a coach, it's a tough gig, knowing that you won't win a lot of games before the season even starts. Therefore, it's surprising that veteran coach Jim Hulton, who has worked with the Florida Panthers, the Kingston Frontenacs and a number of other teams, lists his single season behind the bench at RMC as one of the most important influences on his career.
The year was 2006-07 and RMC notched just 7 wins in 28 games. At the same time, dozens of Canadian soldiers were being killed in Afghanistan.
"As a coach, you went from dealing with boys in Junior to dealing with men at RMC," Hulton says. "These guys were at a military college and things were heating up in Afghanistan. There was a real possibility these players could be called into a real war. So, all the sports analogies about war suddenly took a back seat because this was real life."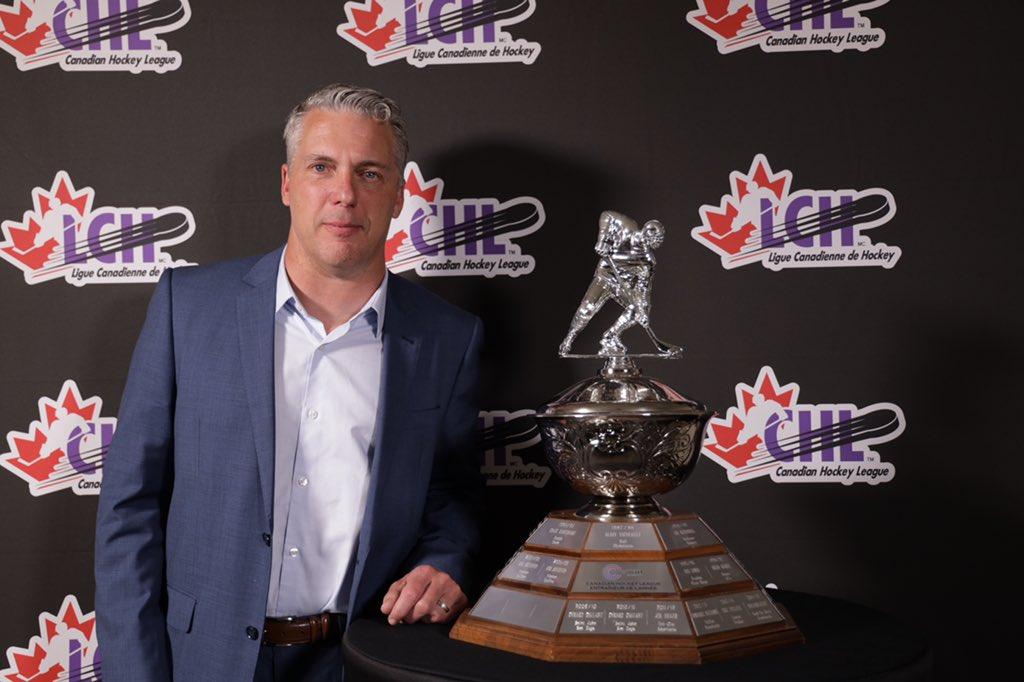 What was the shift in his approach to coaching due to his experience at RMC? "It was not a top-down dictatorial system like in Junior. I learned a lot about how to deal with men and how to create a partnership with the players."
It would serve him well when he later became an assistant coach with the NHL's Panthers, working with experienced skaters who were earning millions every season.
The Wolfe Island native, 53, has coached with 11 teams over the years since graduating from York University in Toronto. Last spring, he was named the Canadian Hockey League coach of the year after leading the Charlottetown Islanders to the finals in the Quebec Major Junior Hockey League.
Hulton grew up on a farm that has been in the family for decades. As the youngest of four boys, he would tag along with his older brothers as they played hockey in the Church Athletic League. Life was stable and predictable – a far cry from the peripatetic existence of a hockey coach who never knew where his next job would come from.
As a teenager, he played with the Kitchener Rangers of the OHL from 1986 to 1988. However, he only notched a dozen points in his final season.
"Reality kicked in pretty quickly in Kitchener," he says. "There are two streams in the OHL – those who are good enough to go pro and those who are not. I was in the latter group."
Instead, he decided to get an education. He enrolled at York University in Toronto and played for the Yeomen team. He says the coach, Graham Wise, was ahead of his time, introducing systems in practice.
After graduating from York, Hulton returned to Kingston and took a job selling life insurance. But his brother Brian convinced him to help out with coaching a youth hockey team. "I caught the coaching bug," he says.

He worked with the Kingston Voyageurs, the St. Michael's Buzzers and the North Bay Centennials – and then returned to the Voyageurs. He moved to Mississauga in 1998, leveraging Kingston connections with Dick Cherry, whose brother Don owned the expansion OHL franchise Ice Dogs. It was a tough time for a struggling team. "I was only 28 years old and a bit over my head to be honest," he says.
That was followed by a stint as head coach with the Belleville Bulls, a solid OHL squad that had won the league championship two years before. "I probably learned more from the players than they learned from me," he says.
Then in 2003, he had the chance to return to his hometown as bench boss with the Kingston Frontenacs. In the three years he was here, the squad lost in the first round of the playoffs twice and missed the playoffs once.
"It was both a good and bad experience," he says. "Coaching in your hometown is a dream. Unfortunately, it didn't turn out the way I wanted it to but I will never have any regrets about taking a shot at it."
While he treasured the support of family and friends, many fans thought they were assistant coaches who knew what was best for the Fronts. "You couldn't get away from it," he says. "I think I put too much pressure on myself because I wanted so badly to succeed there."
A highlight for him was winning the World Junior Championship in 2005 under head coach Brent Sutter. Hulton had the opportunity to coach several future NHL stars, including Sidney Crosby, Patrice Bergeron and Ryan Getzlaf. Canada defeated Russia 6-1 in the final.
After he was fired by Kingston, he did his stint at RMC for a year and then spent another season in Mississauga with the St. Michael's squad.
Then he got the call to join the Florida Panthers as an assistant coach. Unfortunately, it was another struggling team. The Panthers missed the playoffs in all three seasons that he was there between 2008 and 2011.
"The reality in the three years that I was with Florida is very different than peoples' perception of the NHL. There were three different ownership groups and three different GMs. We had salary cap issues and had to dump salary. It was an eye-opening experience about the business side of hockey."
On the positive side, Hulton leveraged his RMC experience in partnering with the Florida players, including them in decisions and gathering their insights. "That was the start of the modern era of coaching in the NHL," he says.
After a stint running a hockey school in Kingston, and then coaching in Nebraska with the Tri-City Storm, he moved to Charlottetown in 2015, where he has been ever since.
This year, the Islanders collected 48 wins in a 68-game schedule, making it to the league finals before losing to Shawinigan. He calls the coach of the year award a group effort, noting that a number of players were highly talented. "The assistant coaches deserve credit for the success of our special teams. I think when you win something like this, it's a staff award."
The long period in Charlottetown has been good for the family. His wife Kristina appreciates the opportunity to put down some roots after years of moving. His oldest son has just enrolled at the University of Prince Edward Island and his second son is midway through high school.
Hulton has signed a three-year contract extension as head coach and general manager; when it is completed, he will have been in Charlottetown for a decade.
After that, who knows? "The competitor in me will always want to go to a higher level, but I have learned over the years that the grass is not always greener."