Bruce Landon's hockey odyssey
When Bruce Landon boarded a bus in Kingston as a 16-year-old to head to Chatham to play Junior B hockey, he could scarcely have imagined that he would be returning more than 50 years later to be inducted into the Kingston and District Sports Hall of Fame.

He will be honoured as a builder at a ceremony in May for his lifetime of dedication to the sport as a goaltender, general manager and team owner.

He is known for spearheading efforts to keep pro hockey alive in Springfield, Massachusetts, even when the city went through some tough economic times.

"It was a passion of mine to support pro hockey in Springfield," says Landon, who last year retired knowing that the local team was in good hands.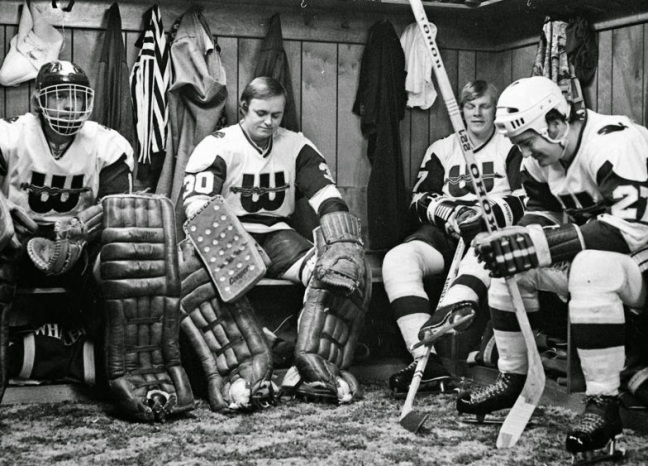 Today he shakes his head at the thought of a teenager heading to a distant town on his own by bus. "I still remember very clearly that I fell asleep on the bus. The bus driver woke me up and asked, 'Are you supposed to get off in Chatham - because we're there.'"
After a successful year tending goal in Chatham, he moved to Peterborough to play Junior A under coach Roger Neilson. In the 1969 NHL draft, he was selected in the fourth round by the LA Kings. After an outstanding training camp, the LA staff told him that he had made the team at the age of 19.

He returned to Kingston to celebrate with his parents and older brother Terry. Then came a phone call at 2 am. "They said they had changed their mind - I was going to Springfield instead. It was devastating at the time."

Landon never did get a chance to play in the NHL.

Stopping frozen tennis balls in Kingston
Growing up in Kingston, he recalls playing hockey constantly - whether it was road hockey in the summer, pond shinny in winter or organized games with the Church Athletic League.

His older brother Terry insisted he play goal. "Terry needed a target for shooting practice and put me between a couple of winter boots and shot frozen tennis balls at me," he recalls.

Bruce got his start between the pipes in the CAL when the team's regular goalie didn't show up. "I loved the challenge and enjoyed playing the whole game. I thrived on the pressure."

At a midget tournament, he caught the eye of NHL scout Bill Reason, who encouraged him to move to Chatham. After his stint there and in Peterborough, he got his pro debut with the Springfield Kings. And what a start it was - he shut out the opposing Baltimore team 6-0. Springfield went on to the Calder Cup finals, where they lost to Buffalo.

In 1972, Landon was in the right place at the right time. The World Hockey Association had just been launched and was looking for players - and was willing to pay them well. He jumped at an offer to earn $25,000 tending goal for the New England Whalers, just down the road from Springfield. He served as backup to Al Smith and played with Kingston's Jim Dorey as the Whalers captured the first league championship, the Avco Cup.
"The WHA was the best thing that happened to me," he recalls. He played five years with the Whalers before being released and returning to play in Springfield.

However, injuries were taking their toll. By this time he was married with two children and was no longer interested in moving from town to town to play. "I realized I didn't want to be a hockey gypsy," he says. He hung up his pads in 1977.

Then Bruce Landon's hockey career really took off

He joined the Springfield front office, working in sales, marketing and public relations. In 1982, at the age of just 32 he was named General Manager. He guided the team to two consecutive Calder Cups, in 1990 and 1991.

Over the years, he endured the turmoil of owners who wanted to move the team to make more money. When the team moved to Worcester, Massachusetts, Landon responded by organizing a group to establish an AHL franchise for Springfield in 1994. He finally retired from the Springfield Thunderbirds in 2017.

The Springfield Republican newspaper lauded his success, stating that he has "a passion for the city, a willingness to absorb all the knowledge he could about business, a love of hockey and unshakeable integrity."

In addition to his pending membership in the Kingston and District Sports Hall of Fame, Bruce Landon is a member of the American Hockey League Hall of Fame, the Springfield Hall of Fame and the Massachusetts Hockey Hall of Fame.

These days he's working on a memoir about his years in hockey and enjoys watching his grandchildren play - both his 13-year-old granddaughter and his 16-year-old grandson are active in the game.

"I had a great career. It was too bad about the injuries, but it was a wonderful experience."