Mural commemorates the founding of the Memorial Cup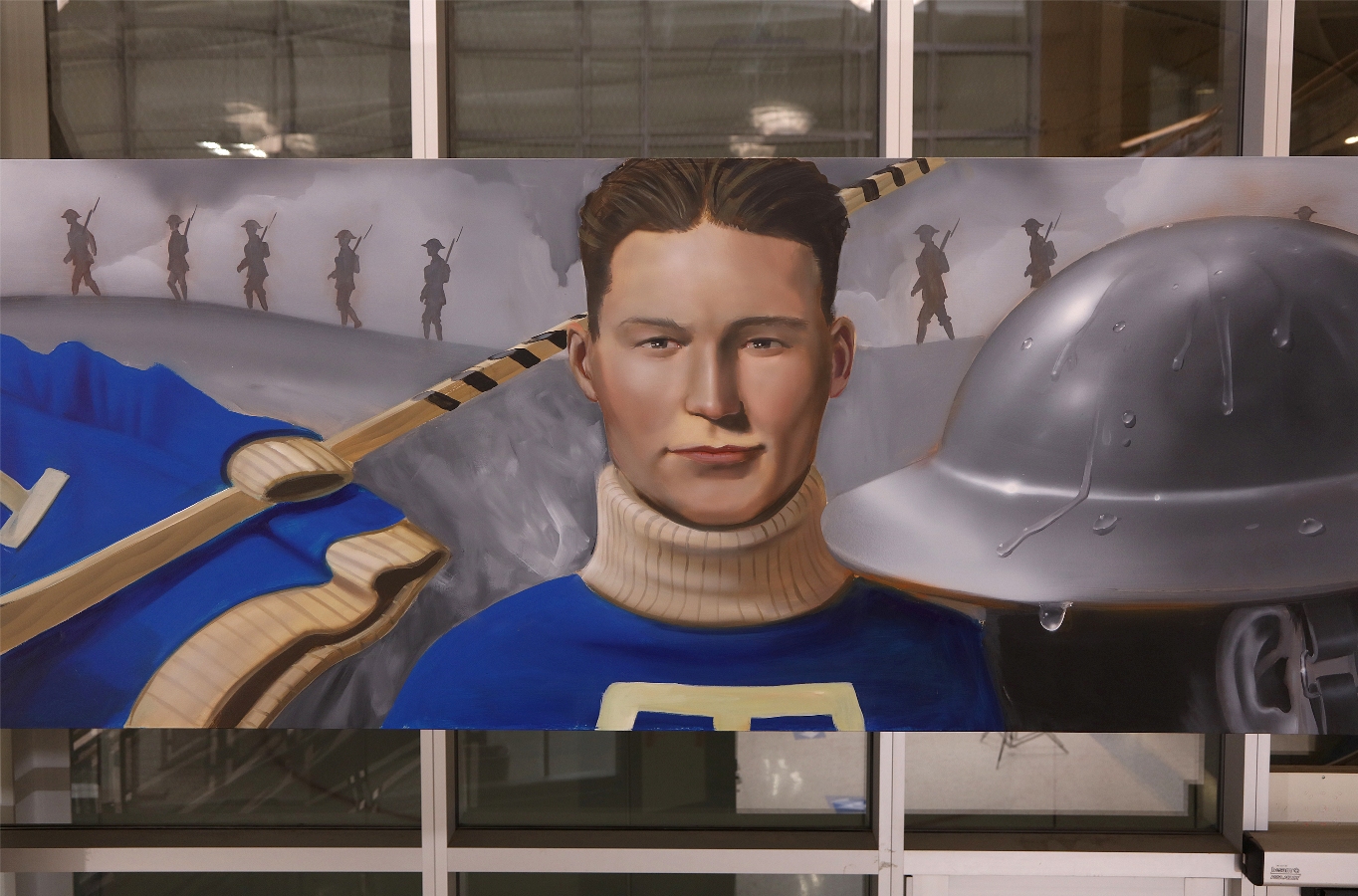 When hockey star Scotty Davidson was killed in action in 1915, his commanding officer, Capt. George Richardson, wrote a letter to his former coach in Kingston.
"He was absolutely fearless in the face of the greatest danger," Richardson explained to James Sutherland in the missive. Davidson was a bomb thrower and was killed during an attack on a German position.
Sadly, Richardson himself would live only a few months after eulogizing Davidson, who captained the Toronto Blueshirts to that city's first Stanley Cup victory in 1914.
On Feb. 8, 1916, George Richardson was shot while leading a patrol near Ypres. He died of his wounds the next day. Richardson was an outstanding hockey player and could have played professionally – but chose to join the family's highly successful grain business instead.
Back in Kingston, Sutherland was devastated by the loss of two of his star players with the Kingston Frontenacs junior team.
To honour their legacy, after the war ended Sutherland proposed to establish a trophy to commemorate all of the Canadian soldiers killed. It became known as the Memorial Cup and its 100th anniversary was in 2018. The trophy was rededicated in 2010 to honour all Canadian soldiers killed in wars.
"The Memorial Cup is an outstanding contribution that Kingston has made to the game of hockey," says Larry Paquette, President of the Original Hockey Hall of Fame. "It's exciting to be celebrating this milestone."
The Hall is marking the founding of the Cup with two special initiatives: A stunning First World War mural at the Invista Centre that commemorates Sutherland, Richardson and Davidson; and a display in the Hall itself that tells the story from the establishment of the trophy through to the many hard-fought contests on ice to win it.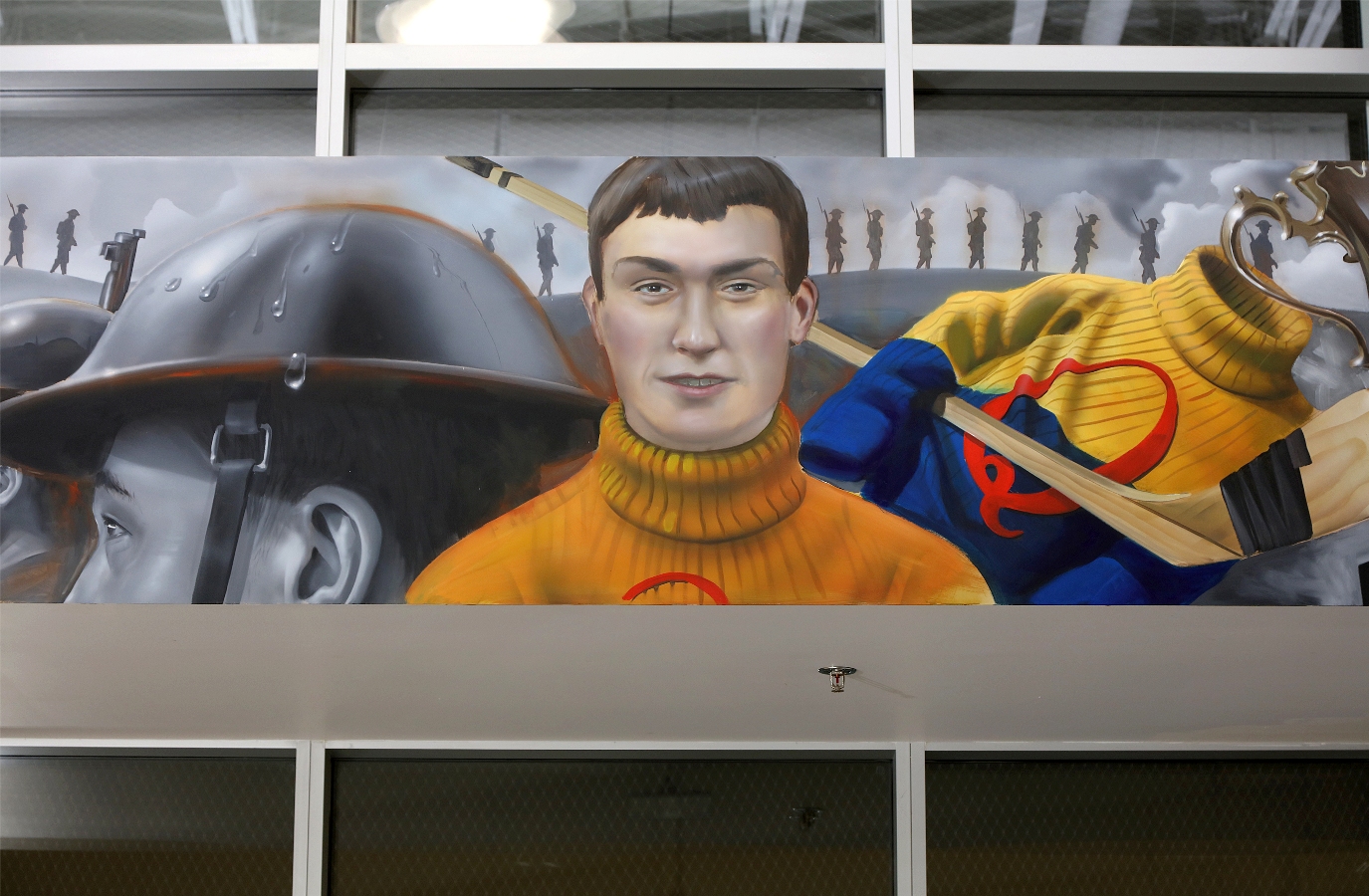 Both current Hall President Larry Paquette and former President Mark Potter devoted countless hours bringing the project to fruition. Potter spent almost three years in discussions with the City of Kingston to determine how to best recognize the two soldiers and their coach. They finally agreed on the mural – and what a great decision it was.
"The Memorial Cup display and mural was supported by a generous donation from the Richardson family," says Potter. "We would like to express our gratitude – without them it wouldn't have been possible."
While the Hall itself remains closed due to Covid, visitors to the Invista Centre can see the mural, which is in the main hallway. In the meantime, Paquette says they are putting the finishing touches on the display in the Hall.
"We will have memorabilia from players who won the Memorial Cup over the years, including Doug Gilmour, Taylor Hall and Don Cherry," he notes. There will be jerseys, trophies, pucks and programs.
In addition, a video of interviews and highlights will show some of the greatest players and moments in the history of the Memorial Cup.
"It will definitely be worth the wait," Paquette says. "We'll let people know as soon as we are able to reopen the Hall."