The torch passes from Bernie Nicholls to Shane Wright
When Shane Wright broke the Kingston franchise rookie scoring record in February, Bernie Nicholls - who set the mark 40 years earlier - was quick to congratulate him. Wright, a 16-year-old from Burlington, smashed the record in style – with an eye-popping hat trick in a 6-1 Kingston Frontenacs road victory against the Flint Firebirds on Feb. 29.
Wright notched 39 goals during a shortened season, beating the record of 36 set by Nicholls in 1979-80.
In sending his congratulations, Nicholls tweeted that "the difference between us is: I was 18 and he started the season while he was only 15 years old! This young man is a special player!"
Over the phone from Las Vegas, Nicholls chatted with The Square Puck about his time with the Kingston Canadians, his prolific NHL goal-scoring career and the ongoing challenges of concussions from on-ice checks and collisions.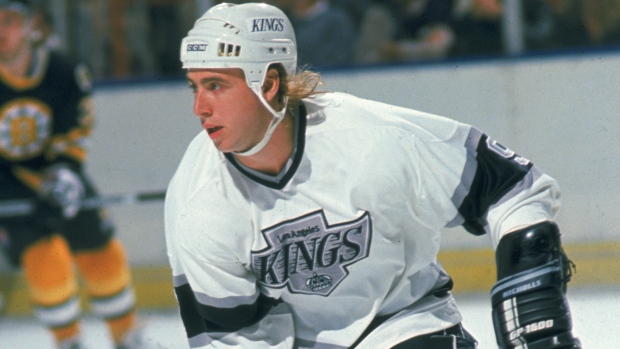 "No one wants to see their record broken and everyone hopes it will hold forever," Nicholls says. "But it's easy to root for someone like that and I hope he enjoys every success." After Nicholls tweeted his compliments, Wright sent a message back thanking him.
In Kingston, Nicholls was known as one of the most flamboyant players in franchise history. He drove a sports car and liked to wear a full-length fur coat. His billet in Kingston owned a fur store, where Nicholls worked part-time and he received a discounted price on the coat. "Wearing a fur coat wasn't a publicity stunt - I always enjoyed dressing nice."
The 1980-81 Kingston squad featured one of the best power plays in OHL history. After a great rookie season the previous year, Nicholls notched 63 goals. Linemate Scott Howson – who has just been named the president of the American Hockey League – wasn't far behind with 57 goals. On defence were future NHL players Rik Wilson and Neil Belland.
In the playoffs that year, the Canadians defeated the Ottawa 67s in the division semi-finals, before losing to the Sault Greyhounds in the division finals.
Drafted by the Los Angeles Kings, Nicholls had a brief stint with the AHL New Haven Nighthawks before being called up by the Kings in February 1982. And what a rookie season it was. Nicholls tallied 32 points in just 22 games. He also scored hat tricks in three straight home games.
Moving to LA was quite a shock for a youngster from Haliburton, Ontario. He credits teammate Mike Murphy, the future coach of the Kings and the Toronto Maple Leafs, with taking him under his wing and helping him adjust to the bright lights and fast pace of the NHL.
And while the fur coat may have looked out of place in balmy LA, he continued his fashion-forward trend in that city.
Throughout his NHL career, Nicholls was known for his practical jokes. He would routinely borrow a teammate's hotel key, hide behind the shower curtain and jump out screaming when the player came back to his room and was brushing his teeth.
One night it backfired. Hoping to surprise two training camp rookies who were fast asleep, he snuck into their hotel room via the sliding door on the balcony. However, the pair had been cut earlier in the day and the room rented out to two elderly women. When Nicholls entered the room, the women screamed and called the police. The hockey star ran as fast as he could, narrowly avoiding an embarrassing situation.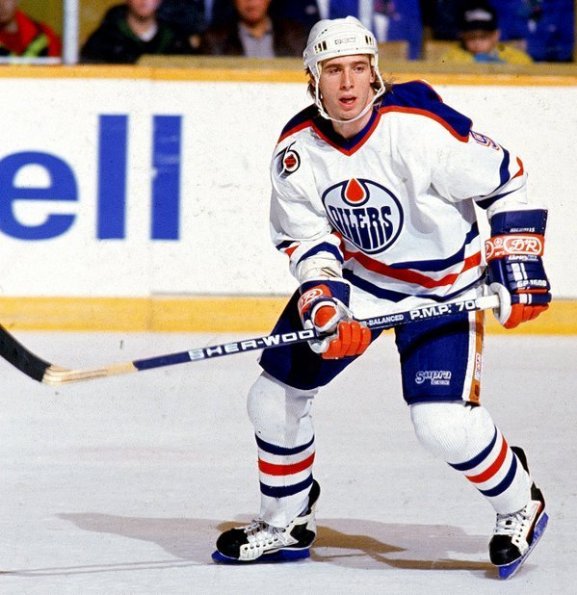 His scoring prowess with Kingston continued in Los Angeles. Over his NHL career, he tallied a total of 475 goals and 1,209 points. In his 17 years in the NHL, Nicholls dressed for the New York Rangers, Edmonton Oilers, New Jersey Devils, Chicago Blackhawks and San Jose Sharks.
In the 1980s and 1990s, hockey was high scoring and a much more physical style of play than today's game. Nicholls suited up for more than 1,100 NHL games and he encountered his fair share of injuries – including multiple concussions. "I would get hit on the head and the trainer would take a look at me and send me right back into the game," he recalls. At the time, there was no concussion protocol.
To this day, he still gets dizzy regularly and frequently suffers memory losses. Last year, Nicholls and 136 other former players accepted a settlement in a lawsuit against the NHL for the ongoing effects of on-ice concussions. While agreeing to the settlement, the NHL denied any liability. Nicholls is disappointed with the league. "The NHL should stand up and admit that it should have done better," he says.
One season that was not affected by injury was the 1988-89 campaign and what a special year that was. In the summer of 1988, a blockbuster trade would send the greatest player the NHL had ever seen from Edmonton to Los Angeles - and that would allow Nicholls the opportunity to play with Wayne Gretzky for one and a half seasons.
During that season, the two scoring stars had instant chemistry. "Playing with Wayne was like Christmas every day. Wayne turned Los Angeles from a mediocre hockey town into the place everyone wanted to be, including Hollywood celebrities," Nicholls says.
Nicholls went on to score 70 goals in his first season with the Great One, one of only eight NHL players to ever reach that total. He tallied 150 points that year – a rare feat in NHL history. The only other players to ever top 150 points in a season are Gretzky, Mario Lemieux, Steve Yzerman and Phil Esposito. Some pretty exclusive company indeed for a kid from Haliburton.