The Red Barons helped revive women's hockey
Kim Ferguson was just nine years old but already an experienced hockey player, taking part in pickup games with her brothers at the family's backyard rink in Strathcona Park.
Certainly, she had the hockey genetics. Her father was Lorne Ferguson, who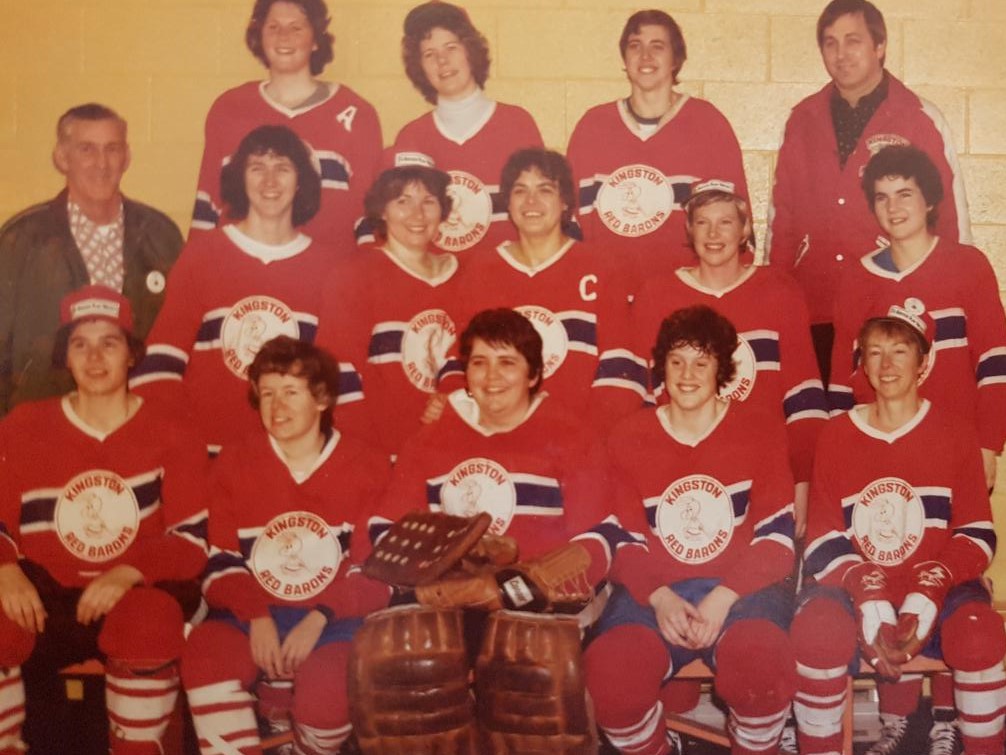 played in the NHL for Boston, Detroit and Chicago.
She was determined to join organized hockey – but there was a problem: The year was 1969 and there were no girls' teams in Kingston. "My dad always wanted me to play and he inquired at the Church Athletic League about playing in the boys' league," she recalled recently. "The answer was, 'No, she's a girl.' "
The solution? After seeing a notice in the newspaper about a women's team being formed by Cookie Cartwright and Annabelle Twiddy, she jumped at the chance.
"At the time, I didn't realize the age difference between me and the other players," she says. "Here I was in Grade 5 and Cookie Cartwright was already a practicing lawyer in Kingston."
The Red Barons team helped to resurrect women's hockey in Kingston. While women had been playing on the harbour ice since the 1890s, the game died out during the Second World War and its aftermath. The Red Barons went on to huge success in Ontario and across North America.
A Kingston women's team just made sense. Cartwright had been commuting to Toronto to play, while Twiddy was a member of a Picton squad. "We decided that this traveling was stupid – that we should have a team in Kingston," recalls Twiddy.
They named the team in honour of Snoopy, the hockey-playing dog in the Peanuts comic strip who battled First World War flying ace the Red Baron. They even got permission from cartoonist Charles M. Schulz to use Snoopy in their logo.
It was a motley crew. In addition to 9-year-old Kim Ferguson, the team included star ball players who needed to learn how to skate before they could play.
Somehow they succeeded. The Red Barons won many tournaments, including the North American championships in Wallaceburg in 1975 and 1976, as well as the Ontario championships in 1975. Both Twiddy and Cartwright were later inducted into the Kingston and District Sports Hall of Fame, along with teammates Mary Skeggs and Rhonda Taylor.
Twiddy says hard work and determination spelled victory for the Red Barons."We had some very good athletes on the team, and some great coaching and we all loved to play."
It wasn't always easy. The Red Barons fought to get ice time in Kingston and had to raise funds to travel to tournaments. They also faced taunts and discrimination. "I went to high school at KCVI and a lot of the boys called me Ralph because I played hockey," says Taylor. "Obviously, it was meant to be derogatory but I just ignored it."
Eventually, the team members got older and were no longer able to compete in top-level tournaments. While the Red Barons faded away, Cartwright says they laid the ground work for the boom in girls' hockey in Kingston. "We gave a lot of kids the idea that females could play the game," she says.
The Red Barons cleared the ice for organized girls' hockey and the ascension of players like Kingston Olympic champion Jayna Hefford. "Jayna and company stand on their shoulders," says Janice L. Sutton, a team supporter who is organizing events to mark the 50th anniversary of the team in 2019.
As for Kim Ferguson, she recalls the other players being very protective due to her age and small stature. At one game against the Boston Massport Jets, a fight broke out on the ice and the police were called to break it up. When it started, one of the Red Barons scooted over and picked up Fergie, lifting her over the boards to safety.
While Kim normally got a ride to the rink with her parents or a teammate, one time she didn't have one and was too shy to ask. "I got on my bike and put my hockey equipment on my back. I set out from Strathcona Park to go to the Cook Brothers Arena on Montreal Street. However, there was a heavy snowstorm and I only made it to Princess and Concession before I got stuck."
It was the only Red Barons game she ever missed. Like the rest of the team, Kim Ferguson was determined to play hockey.