Rob Plumb played in the era of the Broad Street Bullies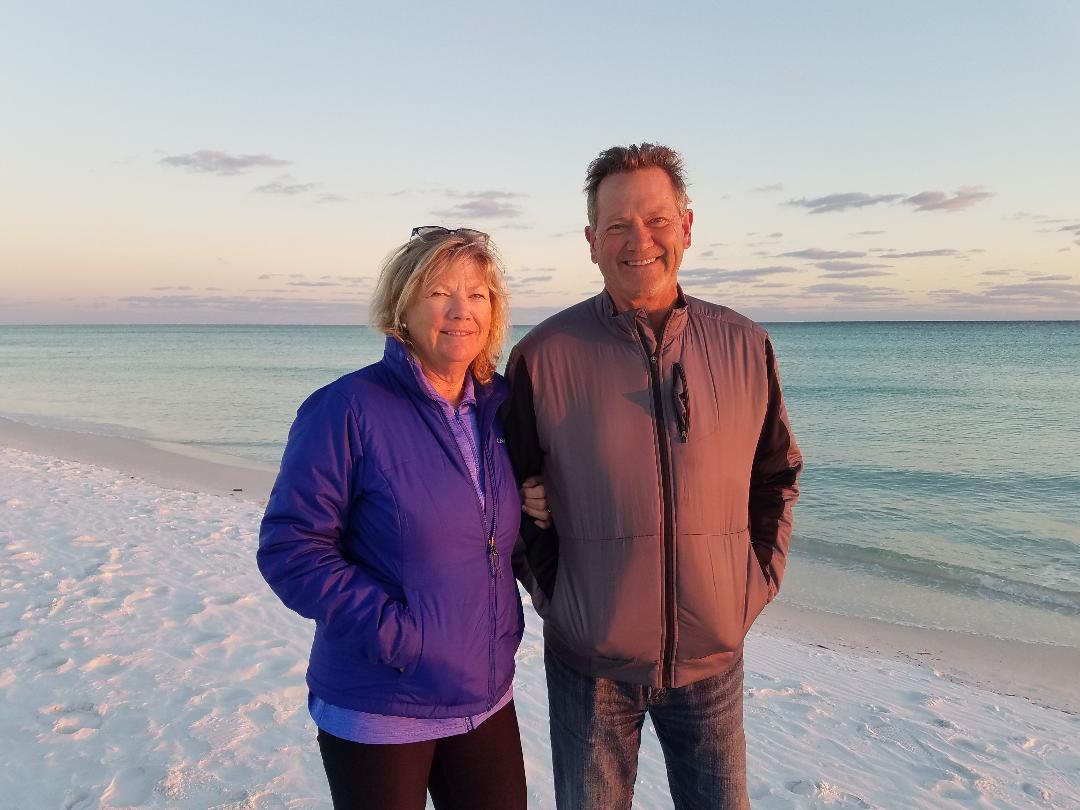 It was a few days before Christmas in 1978. Kingston's Rob Plumb was playing for the Kansas City Wings, a Detroit farm team. It was an exciting time for him personally as his girlfriend Brenda was flying in from Kingston for the holidays and they were planning to get engaged.
Out of the blue, Plumb got the nod from the Red Wings – his first opportunity to break into the NHL. He was told to get on a plane for New York as he would be suiting up for Detroit the next day in a game against the Rangers. Brenda was left stranded in Kansas City and was taken in by one of his teammates.
"Detroit called me and I had to go," he recalls. "They don't give you a lot of time. Brenda was disappointed but she understood."
There was just one problem. Plumb had purchased an engagement ring from a Kansas City jewelry store but hadn't picked it up yet. Brenda had to get the ring, fly to Detroit and give it to Rob so that he could officially present it to her.
"It was really hard to find a flight because they were all booked due to the Christmas holidays," she remembers. Finally, she arrived in Detroit on Christmas Eve and was able to spend time with him. It all worked out in the end – they went out to a fancy restaurant for their engagement.
It's not easy being a hockey wife. If your husband is traded or called up from the minors, you have to be ready to move at the drop of the hat. And if you're Canadian and your partner is playing in a US city, you won't be able to get a work permit. That may not matter to NHL players with their multimillion-dollar salaries, but it can make a difference to minor leaguers, who earn much less. When your husband goes on a road trip for a week or more, you're basically a single parent.
The Plumbs made it work. The high school sweethearts from LCVI got married in 1979 and have been together for 42 years. Brenda was just 20 when they tied the knot.
Rob Plumb grew up in a hockey family in Kingston. His brother Ron played for the Peterborough Petes and then in the NHL and WHA. Two other brothers, Rick and Randy, skated in the OHL.
From 1974-77, Rob played with the Kingston Canadians, helping the team deliver the strongest showing in franchise history. In his final year, the Canadians were loaded with talent, including Ken Linseman, Tony McKegney and Mike Simurda. Fans packed the Memorial Centre as the Canadians made it to the third round of the playoffs before losing to the Ottawa 67s. Plumb tallied 51 points for the Canadians that season.
In the 1977 NHL entry draft, Plumb was chosen 163rd overall by Detroit. He was dispatched to the rookie training camp in Kalamazoo, Michigan. Plumb mixed up the dates and arrived two days late – but managed to make a good impression anyway. Only two rookies, Plumb and Roland Cloutier, were invited to go on to the main camp.
Training camp was tough. "It was quite a brutal couple of weeks – a pretty physical experience," he recalls. He played in some exhibition games with Detroit before being sent down to Kansas City.
A couple of months later he got the call to go to Detroit. In the 1977-78 season, he suited up for seven games over the span of a couple of months, notching two goals and an assist.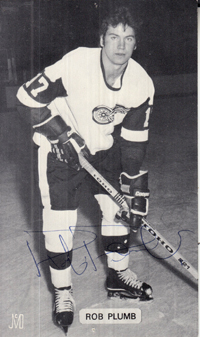 Plumb was just 20 years old. "Most of the players were older and had more experience. They didn't help you out much – you had to make it on your own."
At the time, the NHL was rough and tumble. The Philadelphia Flyers, known as the Broad Street Bullies for their aggressive and penalty-filled play, had won the Stanley Cup in 1974 and 1975. There was only one referee so no one was keeping an eye on what was happening behind the play. And players did not have to worry about the league conducting video reviews of incidents.
"There were some nasty players back then. They would deliver an elbow without fear of getting caught," Plumb says.
After being called up, Plumb had been living in a Detroit hotel for two months. He was about to get his own apartment when the Red Wings made a trade to take on another centre – and sent him back to Kansas City.
The following year, 1978-79, he had a chance to play seven more games with Detroit, notching a goal and an assist. By this time, Brenda and Rob were married and she joined him in Detroit to watch him play.
From there, he headed to the International Hockey League, playing for two years with the Kalamazoo Wings. It turned out to be good timing – he helped the Wings capture the league championship in 1980, notching 68 points in 56 games.
Plumb completed his career with a seven-year run in Switzerland. For the first two years, his team played on an outdoor rink – warm winds would sometimes blow, leaving the ice in puddles for several days. Brenda says it was a great experience. "We were fortunate to be able to travel a lot and see the world. We had the chance to meet a lot of great people."
After moving back to Kingston, Rob started his own home-building business and Brenda worked as an educational assistant in local schools.
Do you want great stories like these delivered straight to your inbox every month? Simply sign up for our regular newsletter here.