Queen's player wins gold at women's world university games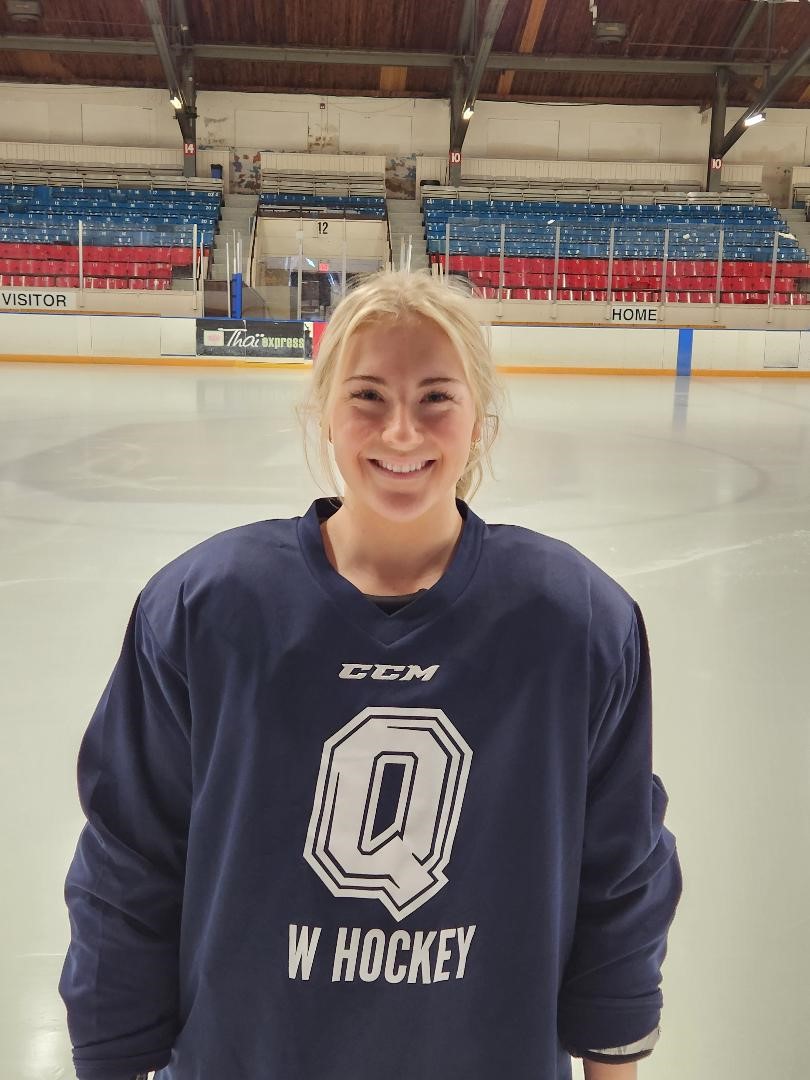 Outside of locker room number 5 at the Olympic Center in Lake Placid, a plaque displays the immortal words of Miracle on Ice coach Herb Brooks.
"Great moments are born from great opportunity," Brooks told the US Olympic team in that room moments before it shocked the hockey world by defeating the mighty Soviet Union in 1980 and later winning the gold medal. "That's what you have here tonight boys. That's what you have earned here tonight. One game."
As Kingston's Scout Watkins Southward laced up her skates in that same locker room before the gold medal game at the FISU World University Games in January, she thought of the movie Miracle. It tells the story of the stunning victory. Southward had listened to the Brooks motivational talk countless times while watching the film on bus trips with the Kingston Ice Wolves and the Queen's Golden Gaels.
"I remember walking into the Lake Placid arena for the first time – it's the mecca of hockey," says Watkins Southward, who was born more than two decades after the 1980 game. "It was incredibly inspiring. The arena itself is such a beautiful rink. And then there's the history of all those players who came before you and what you want to leave behind."
In women's hockey, there are usually two powerhouse rivals – Canada and the United States. Teams from other countries struggle to compete and the FISU university tournament was no different. Canada cruised through the preliminaries with wins over Slovakia, the Czech Republic, Japan and Great Britain.
While she calls herself more of a grinder than a scorer, Watkins Southward notched a goal in the game against Great Britain.
Then in the final game of the preliminary round on Jan. 18, the US needed to defeat or tie Canada to make it to the medal round. Before a sold-out crowd at SUNY Potsdam, the two teams battled it out.
"In this game, we had the opportunity to knock them out of the tournament," Watkins Southward says. "Even though it wasn't a medal game, it definitely was important."
"As a result, they were putting everything they had on the line and giving it all they had. For us, it was do your part and stick with your game."
It worked. After a scoreless first period, Canada grabbed the lead over the American side with a goal in the second. It held on for a 2-1 win.
Then it was on to the medal round at the storied Olympic Center in Lake Placid. Team Canada scored a 6-1 victory over Slovakia in the semi-final and then easily beat Japan 5-0 to win gold.
"It was an emotional, fun and empowering game," she says. "I've been dreaming of wearing the Maple Leaf since I was practically four years old. It was definitely one of the greatest experiences I have ever had – it was a life-changing experience."
The Team Canada men's team also had a great tournament, capturing gold by defeating the USA 7-2 in the final. Queen's head coach Brett Gibson served on the coaching staff. Two Queen's players, Jacob Paquette and Jonathan Yantsis, skated with the team.
There were no try-outs for Team Canada at the university games. Watkins Southward was scouted during Golden Gaels games and her selection was officially announced last December. She joined university hockey players from across the country, who had to come together quickly as a team.
She grew up in a hockey family in Kingston with parents Kristen Watkins and Troy Southward. Troy played as a youth and coached her teams with the Ice Wolves and at LaSalle Secondary School. The Toronto Maple Leafs were always on the TV and the family billeted a Kingston Frontenacs player from North Bay for a while. She followed her older sister Piper by getting on skates and picking up a stick at the age of four.
After completing high school, she was uncertain where to attend university and continue to play. While she had grown up in Kingston, she didn't know that much about the Golden Gaels. But perhaps it was destiny – she recalls a photo of her wearing a Queen's hockey sweater at the age of seven.
"I had an opportunity to meet with the coaching staff and I fell in love with the hockey community at Queen's," she recalls.
She enrolled and joined the team but Covid-19 threw a wrench into everything. Starting in March 2020, the team was forced into online learning and hockey came to a halt. It only resumed last season, with the Queen's squad getting to the playoffs before losing to Nipissing University in North Bay.
This year, Queen's coach Matt Holmberg has been working to instill a sense of history and honour in the team. At the beginning of the season, he put together a presentation about the women's game at the university, which has a history of more than a century. While the modern era started in the 1970s, there were Queen's women's teams as far back as the early 1900s.
In his presentation, Holmberg introduced the idea of Whakapapa, a Maori concept of the universal need to belong.
"Each of us is part of an unbroken – and unbreakable – chain of people who share a sacred identity and culture," he told the Queen's team.
Watkins Southward found the presentation incredibly motivating. "It gave our team a huge sense of purpose and pride, that there is something bigger than us."
She will be back for another season at Queen's next fall. After graduation, she hopes to play professionally in Europe and eventually run a business in fitness and training.
Wherever she lands, she will have the memories of that gold medal victory at the university games at the Olympic Center in Lake Placid in January. Canada didn't need a miracle to win but it was special nonetheless.
"It was a dream come true for me," Watkins Southward says.
RELATED
Ron Davidson skated for Canada in the 1980 Miracle on Ice Olympics