Carr-Harris Cup Celebrates Hockey's Oldest Rivalry
The K-Rock Centre was rocking as the largest crowd ever to watch a university hockey game in Kingston was treated to a battle of hard hits, plenty of goals and explosive offence.
The oldest hockey rivalry in the world – between Queen's University and Royal Military College – is renewed annually as the two schools fight for the Carr-Harris Challenge Cup. On Feb. 1, 2018, more than 3,500 fans turned out to scream and cheer as Queen's won 6-5 in an overtime thriller.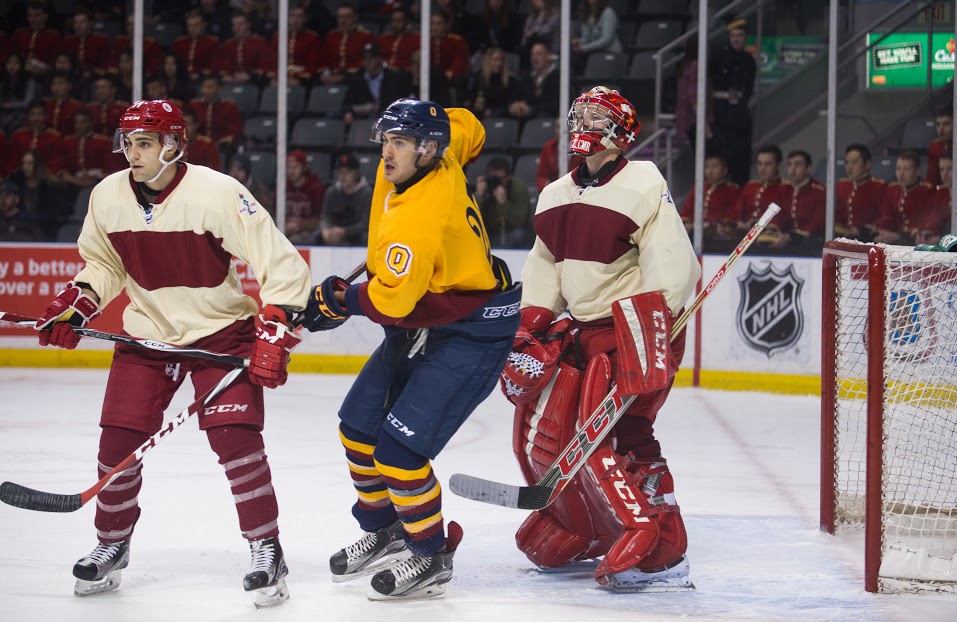 It was a little different back on March 10, 1886 – the day the rivalry started. The two teams waged battle on Kingston's harbour ice, playing with a square puck carved from a lacrosse ball. Few of the spectators on hand likely had ever heard of hockey or understood its rules. In that historic game, the contest was scoreless until Lennox Irving of Queen's finally put one past the goalie to give Queen's a 1-0 victory.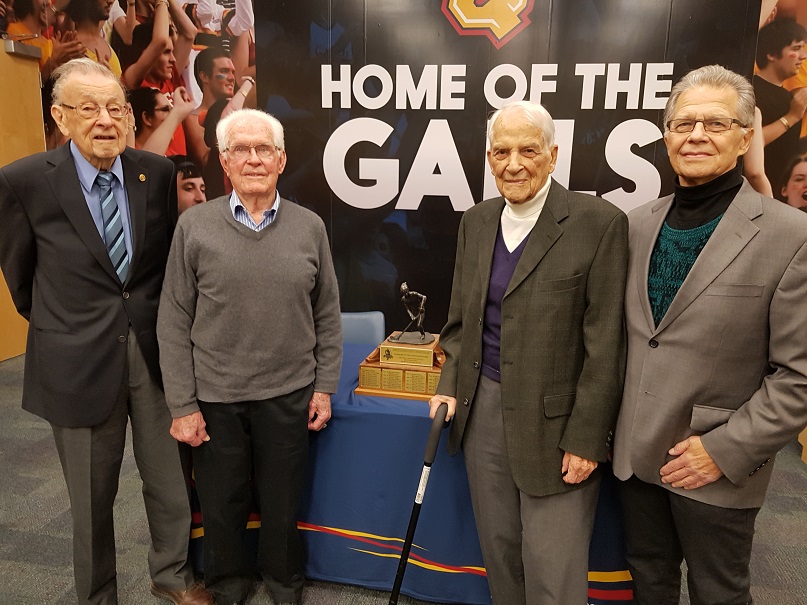 Back in 1986 – the 100th anniversary of the rivalry – four prominent Kingston hockey aficionados decided that the historic date should be celebrated. Hockey historian Bill Fitsell got together with Bill Hamilton, Stuart Crawford and Ed Grenda and came up with the idea of a challenge cup. With the support of the Original Hockey Hall of Fame, they created a trophy named in honour of the Carr-Harris family. Designed by Kingston artist Joan Belch, it features a statue of Lennox Irving and is called "The Lennie".
Prof. Robert Harris, the first professor of civil engineering and architecture at RMC in 1879 and later first professor of general engineering at Queen's, was the family patriarch. He adopted the name Carr-Harris, in honour of his mother Sarah Carr.
Carr-Harris sent eight sons and two nephews to RMC and many to Queen's. The Carr-Harris name became prominent in railway construction projects, military activities and sporting action around the world, including Kingston, London, Washington and Hong Kong.
Descendants played, coached and managed for teams in the Stanley Cup, Allan Cup and the Olympics. Marguerite Carr-Harris captained one of the first women's hockey teams at Queen's.
In addition to the Carr-Harris Trophy, the top player from each team is awarded the Mary Carr-Harris Most Valuable Player Award. This award is in memory of Mary Carr-Harris, the matriarch of the Carr-Harris family, who up until her passing in 2006 annually presented the cup to each year's winning team.
Queen's leads the series 20-10-2.